Home > Solutions > Mezzanine Storage
Mezzanine Shelving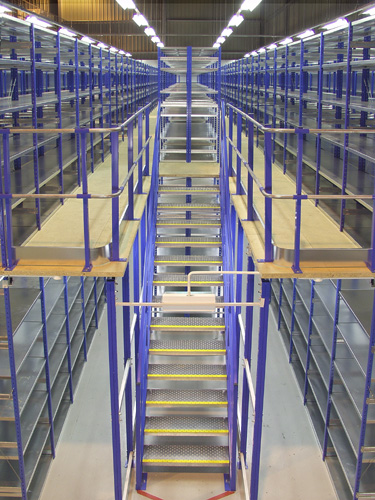 Mezzanine shelving systems can effectively double the square footage of your existing storage space by using the often wasted vertical space.
By using the available building height, no extra heating or lighting is required and the building's rateable value is not normally affected.
Mezzanine shelving and raised aisle shelving systems are perfect for warehouses and large storage areas and are commonly used for archive storage or bulk parts storage.
The ground floor shelving is used to provide a basis to support the raised walkways, a metal staircase adds further rigidity to the whole structure and allows easy access by staff members to the upper levels of storage.
Mezzanine shelving does require building regulations approval and we can include this if required as part of the project.
Contact us today for further information regarding mezzanine shelving systems.