Home > Solutions > Mezzanine Storage
Mezzanine Shelving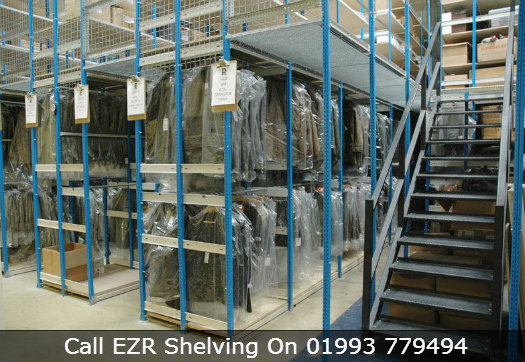 Mezzanine shelving systems can effectively double the square footage of your existing storage area by using the often wasted, vertical space.
Mezzanine shelving and raised aisle shelving systems are perfect for warehouses and distribution centres and are commonly used for archive storage or bulk parts and retail goods storage.
The ground floor shelving provides a basis to support the raised walkways, a metal staircase adds further rigidity to the whole structure and allows easy access by staff members to the upper levels of storage.
Because mezzanine shelving solutions utilise the full height of the building, there is no need for extra heating or lighting. This combined with the savings of not expanding your existing warehouse or moving to new premises, makes it all the more cost-effective to use a tiered shelving system. The building's rateable value is not normally affected.
Mezzanine storage systems are best suited to big industrial units where they store high densities of documents or for holding stock ready to be picked for mail order fulfilment. However, even smaller stockrooms can benefit from the stock capacity increase that mezzanine shelves provide - as long as there is enough ceiling height.
The bottom level of shelving is used as a support for the upper levels, because of this there is no need to build a costly structural mezzanine floor. If you are just starting out, or if you want to increase your storage racking in controlled stages, a base layer of shelving can be supplied that allows extra tiers to be easily added in the future to cope with the demands of your growing business.
Raised Aisle Racking
This raised racking system (shown above-right) has long runs of shelving that provides a cost effective solution with a staircase at each end, the central position of the staircase enables a rectangular footprint that fits well into the existing building.
The raised aisle shelving uses galvanised steel shelves and solid steel backs to prevent items from falling from the upper level.
This style of storage structure is the most cost-effective solution for utilising the height available when shelving is used at ground floor and first floor levels.
Raised storage platforms should not effect the rateable value of the building but they do require building regulations approval, we can include this if required as part of the project.
Contact us for further information and help with planning your next mezzanine shelving storage project.
Rack Supported Floors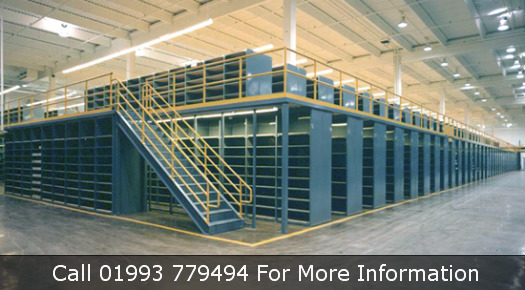 Rack supported floors are an ideal solution to create an open floor space above a shelving or racking system that can be used for bulk storage or additional shelving.
A floor over racking system is simply an area of shelving or racking with a lid on top that creates a floor accessed by a staircase.
Rack supported floors are a cost effective way of providing additional floor space when shelving is being used at ground level and negates the need for a structural mezzanine floor.
Raised platforms require building regulations approval and we can include this if required as part of the project.
The photo shows an application with shelving on the upper level, however this is independent and can be removed to create an open 'mezzanine' floor area.
Contact us to arrange a free site visit to discuss the optimum solution for your needs.