Home > Solutions > Stockroom Shelving
Roller Racking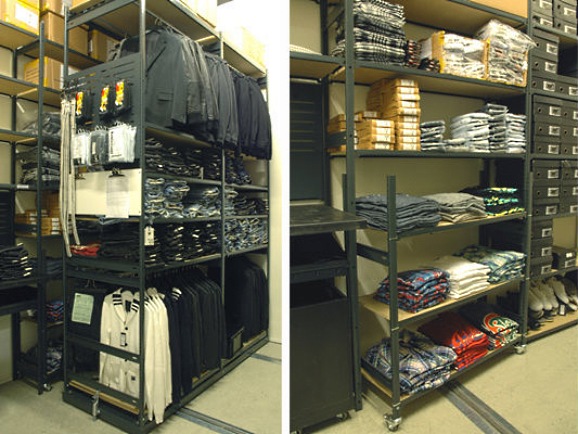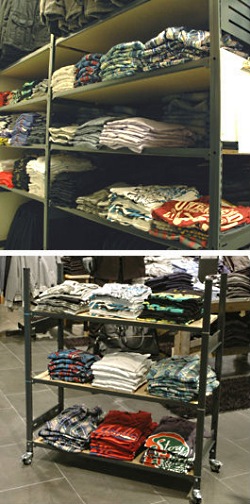 Roller racking units reduce the number of racking aisles required and increases stock capacity making them perfect storage solutions in retail stockrooms.
The Stock Racking system below is designed with hanging rails for hanging garments and shelves for folded clothes.
Shelving Trolleys were incorporated within the storage shelving to enable stock to be taken to the sales area for ease of merchandising.
The pre-retail bench provided space for stock to be prepared with plastic bins for tags and sticker rolls, filing trays for documents and a magnetic panel to display paperwork.
The rack ends are fitted with slat panels for hooks to provide additional storage space for small items and wipe boards enable the racking to be marked with stock location information.
The stockroom shelving was designed around the stock sizes so that stacks of shirts fit perfectly on each storage shelf. This stockroom storage solution provided a place for everything with the maximum stock capacity within the smallest possible space. Staff Lockers were also provided and Retail Step Ladders enabled easy access to the higher stock levels.
Stock Racking and lockers were finished in special colours to match the retailer's brand image so that the stock system also looks good.
We offer a free design service and we would be pleased to arrange a site visit to discuss your requirements. Contact us to discuss how we can increase your storage capacity.