Storage Solutions For Archive Boxes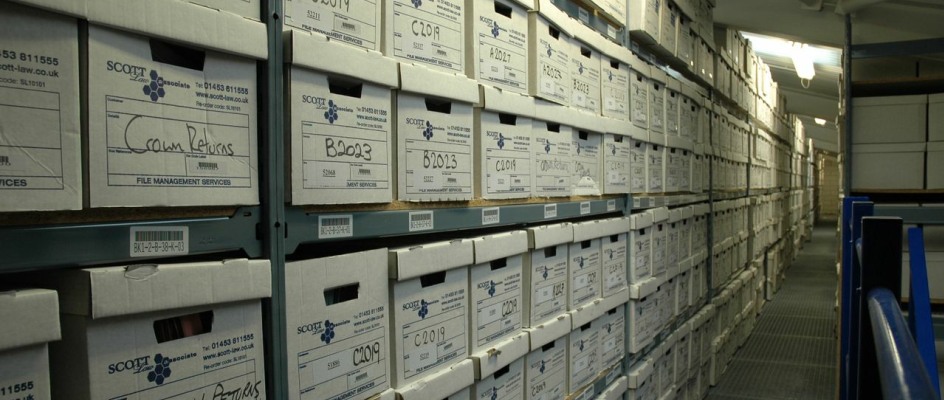 The advent of the computer into our daily lives may have reduced the number of files that we keep but there is still a huge demand for solutions that can help businesses store important printed documents and records. Our continued reliance on paper means that the archive box is destined to remain the most popular way to store archived files for many more years to come.
A few document boxes in an office are typically stored on top of a cupboard or stacked in a corner but what do you do with 10, 100 or even 1000+ boxes? The answer is to use a dedicated storage system that can hold all of your archiving storage boxes to create easily accessible, organised storage areas.
Using the right shelving system to create your archive storage racks is the key to maximising all of your available space. Our Trimline and Type 1 systems provide cost-effective and efficient archive storage solutions that can be applied to any business sector.
The photographs here show several shelving configurations that can be geared towards either maximum capacity or ease of use. When large quantities of boxes need to be stored that are accessed infrequently, a double-depth and double-stacked solution will give you the perfect high density storage solution. When papers need to be accessed more regularly, a lighter duty solution with only one row of boxes per shelf can be used. This style of racking allows access to any box directly from the aisle without having to move other boxes first, ensuring that employees are able to quickly locate the right box for their needs.
Our shelving systems are designed specifically to suit the standard archive box that is used for off-site storage, the 'perfect fit' enables the maximum number of boxes to be stored in a given space.
A box full of densely packed paper is heavy, very heavy - so much so that each document file box can weigh up to 20Kg when full. Depending upon the size used, a fully laden shelf will have to cope with anything from 120 to 400kg, therefore it is a false economy to use anything but the very best racking system that you can afford. EZR archive solutions are built from industrial strength components that are strong enough to allow extra tiers to be added as shown in the photograph below. Adding extra floor levels in this way is a cost-effective way to store high quantities of archive boxes and makes full use of your building's ceiling height.
CALL US ON 01993 779494 TO DISCUSS YOUR ARCHIVE SHELVING PROJECT
Archive Records Storage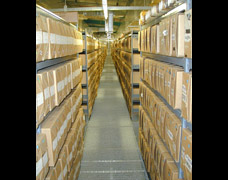 We specialise in supplying and installing cost-effective archive records storage solutions designed to fit within an allocated storage area. Typically extra strong racking is used to accommodate archive boxes full of documents but the size, style and specification of the solution can be modified to suit any requirement.
The example below shows file storage boxes stored within an archiving shelving system containing national mining records for the Coal Authority - this included maps and historical details of all of the coal mines in the UK.
Archive records are stored in file boxes and have to be available for retrieval in the event of an emergency or for planning searches and are stored using our heavy duty shelving system with 1.8m wide shelves.
Shelves have a height adjustment of 50mm which allows a high density file box storage system to fully utilise the space available.
The image shows the upper level of a three-tier mezzanine shelving system with open grip steel flooring that allows visibility of smoke in the event of fire.
Please contact us for further information regarding our archive records storage systems.
Mobile Shelving - Archive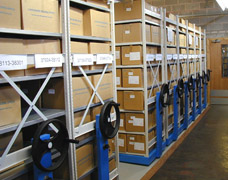 Wheel driven mobile shelving and mobile racking is the most commonly used type of mobile storage shelving, which uses a hand wheel to move the mobile units left and right.
The hand wheel is geared through a drive chain so that heavy loads can be moved with ease.
Typical applications for wheel assisted Mobile Shelving and Roller Racking are Libraries and Archives within Universities and Public Records Offices and Medical Records within Hospitals.
Wheel driven mobile shelving is a cost effective space saving solution that can pay for itself within less than a year based on the floor space gained or increased archive box storage capacity provided.
Call us to find out more about how a mobile shelving system can save space within your business and for a budget price.