Lingerie Racking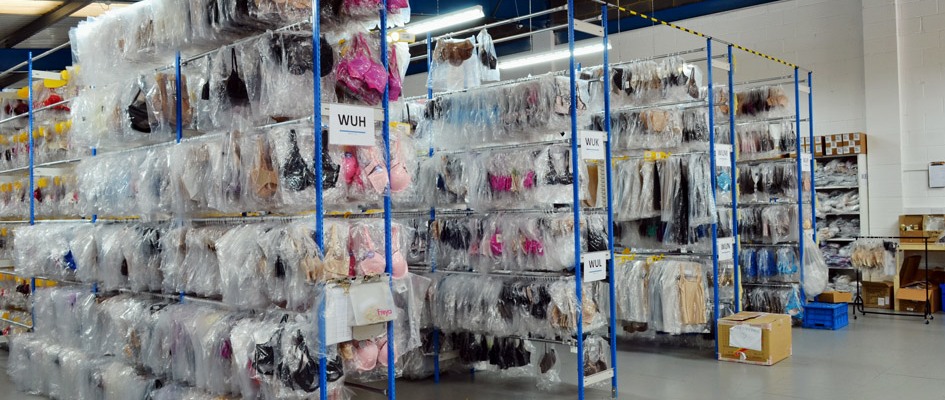 Hanging garment racking provides adjustable hanging rails for lingerie retailers and wholesalers. This lingerie garment racking system provided 327 linear metres of storage capacity for hanging garments and 131 linear metres of shelving for plastic storage boxes.
Lingerie storage racks have adjustable garment hanging rails enabling increased stock density for bras & briefs and nightwear with 6 drops of 450mm or 4 drops of 700mm. Adjustable garment racking is ideal for stockrooms where extra capacity is required to achieve maximum stock density.
Garment racks provide double sided 'outboard' storage allowing lingerie to hang into the aisle for ease of stock picking and replenishment with 600mm aisle widths recommended for step ladders. Lingerie garment racking is available up to 3m high and is floor fixed and top tied for stability. This solution has double sided garment racking in the centre of the stock room with storage shelving around the perimeter for the storage of folding plastic boxes for storage of accessories.
This 800sqft stockroom provided storage capacity for 20,000 items of hanging lingerie and shelving for 30,000 items including briefs, hosiery, boxed bras and accessories. Folding plastic storage boxes were used for storage of smaller lingerie items and accessories. Pink lingerie storage boxes were chosen to provide a splash of colour! Storage for lingerie items needs to be flexible, adjustable shelves which are standard on all EZR storage solutions, can be easily positioned to suit any stock size.
Contact us to discuss how EZR's garment racking system can increase your stock capacity. We offer a free stockroom racking design service and we would be pleased to arrange a site visit to discuss your requirements in detail.
Image Gallery