8 December 2020 | Jon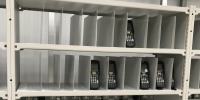 These charging station shelves feature adjustable dividers to create compartments for individual scanners...
12 November 2020 | Jon

When your business invests in good quality racking and shelving, it is a good idea to try and protect it from accidental damage. You can't legislate for every eventuality but you can...
8 September 2020 | Jon

Due to a pending office move, we have the opportunity to offer a rare chance to get a second hand mobile shelving system along with some extra office shelving at a true bargain price.....
3 September 2020 | Andrew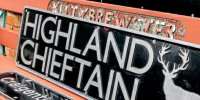 Leading railway memorabilia auctioneers, G.W.Railwayana Auctions Ltd, have teamed up with train operating company LNER to auction some iconic railway nameplates for LNER's charity...
29 July 2020 | Jon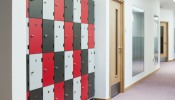 Businesses are choosing to use office storage lockers as a way of complying with the new Covid-19 regulations....
8 July 2020 | Andrew

See how EZR Shelving transformed the stockroom of a leading London department store with high density mobile storage units....
2 July 2020 | Jon

We are back up and running, we would just like to say a big thank you to all...
6 March 2020 | Jon

If you are looking to purchase some new racking for your business then it is important to select the right size units to fit within the space you have available...
9 January 2020 | Jon

Many of our racking systems are installed to replace existing units to either to replace racking that has become unstable due to poor design or excessive loading.
The racking system shown in the photographs demonstrates how important it is to get the design and specification right from the very start...