Laminate Door Lockers With Quick Delivery
Thursday, 24 September 2015 | Jon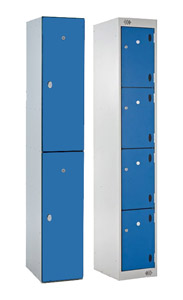 A popular choice for schools, solid grade laminate doors provide an extra heavy duty door solution that can take the everyday knocks and bangs of student use. Typically this style of locker has always been made to order on quite extended lead times. All that has changed with the release of our new standard laminate door locker range.
Although we cannot offer the full compliment of sizes and configurations in this quicker delivery range, we do have 2, 3 and 4 door lockers available in the 2 most popular sizes. Finished with either plant-on or inset blue doors, these locker units are suitable for just about any school environment, helping to keep corridors and classrooms free from student clutter.
If you have an urgent requirement for this style of locker, we can deliver small quantities in just 10 working days. Order these standard lockers online today or call us on 01993 779494 for alternative size and colour options. Schools and government authorities can benefit from immediate 30 day accounts by simply sending us an official purchase order.