LapCabby Charging Trolleys Roll In To Stock
4 March 2014 | Jon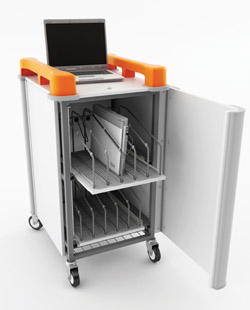 We are pleased to announce the arrival of the LapCabby range of portable laptop charging units suitable for schools, colleges and other training facilities.
These strong and user-friendly charging trolleys come in a range of configurations for the secure storage of up to 32 digital devices. Charging is taken care of via an advanced power management module which can be extensively programmed to suit your timetables or to take advantage of cheaper overnight electricity charges.
Each LapCabby product features a unique L-shaped door with soft bumpers attached to every corner to protect both the unit and your surrounding furniture. A top mounted key lock provides excellent security whilst a concealed lever restricts access to the rear electrical compartment.
LapCabby trolleys are now available to buy online, if you are ordering on behalf of a school or government authority, instant credit accounts are available.
View our full range of Charging Trolleys, if you have any questions please don't hesitate to contact us on 01993 779494.