Coming Soon: New Charge Lockers
Friday, 15 May 2015 | Jon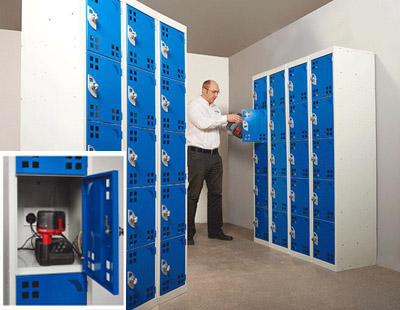 A new range of lockers designed to store and charge tools and devices will soon be launched here in the UK.
The new 'Charge Lockers' will provide a safe and secure place to store, what can be rather expensive tools, whilst also allowing each one to charge when not in use. A socket in each compartment allows anything that will fit within the locker that charges via a standard 3 pin plug to benefit from charging.
There will be a number of lock options available from a simply key cam lock to a more advanced coin operated mechanism that allows the site owner to charge a nominal fee for recharging.
A locker like this can be used for securely storing staff property during the working day. The charging facility encourages employees to leave their mobile phones safely stored away and of course at the end of the day/shift they will leave with a fully charged mobile.
Each locker is made from high quality steel materials and are made here in the UK.
Charge lockers will feature on our website as soon as they become available, if you have any questions regarding this or any of our other products please call 01993 779494.
Update 27/05/15:
We now have a range of tool charging lockers available to buy online, view them all in our charging lockers section.