New EZR Mobile Site Now Live
Wednesday, 14 May 2014 | Jon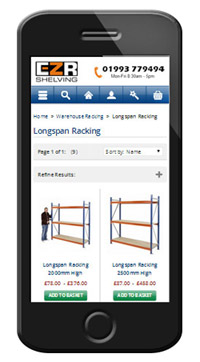 We are pleased to announce the launch of our fully optimised mobile website. This offers an improved experience to the ever growing number of people who are using portable & small screen devices to research and buy products and services online.
The website will deliver content to best suit the size of screen that you are using. Users with larger screened tablets will see our full site whilst users with mobile phones and other smaller devices will see the new app style layout. Mobile users can switch to the full desktop version at any time but using this may result in the need for extra scrolling and zooming in.
We hope this development proves to be useful for all of our future website visitors - no matter how they access the internet.