New Product - BykeBin Cycle Storage Unit
Friday, 6 September 2013 | Jon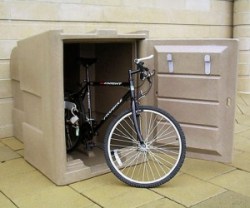 We are pleased to announce the arrival of a new bicycle storage product - The BykeBin!
This innovative locker provides a secure and practical outdoor storage solution for individual bicycles. Each BykeBin is constructed from a hard wearing plastic material that is designed to withstand even the harshest of UK winters.
BykeBins can be stored in a variety of ways to work with the space available, simply store in a long line against a wall, in an arc or back to back (interlocking) to give access from both sides. 6 interlocking bins can be situated in the equivalent area of 1 car parking space.
Available in 15 colours to match or co-ordinate with most surroundings, to find out more about this great new product please visit our BykeBin product page for full details and pricing.