Lockers Update: New Autumn Door Colours Now Available
Thursday, 14 February 2013 | Jon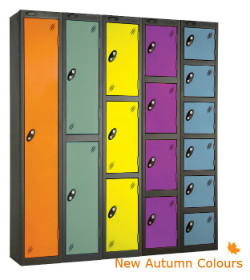 Our large range of Probe storage lockers are now available with a choice of 5 new 'Autumn' door colours.
There is no extra charge for these new door options, so why not brighten up those corridors and storage areas with a splash of colour!
These fantastic new door colours are available on 305mm wide lockers in either 1, 2, 3, 4 or 6 door configurations.
Storage Lockers & Cabinets are available to view and buy online, if you need any help or advice please give us a call on 01993 779494.