Carton Flow Racks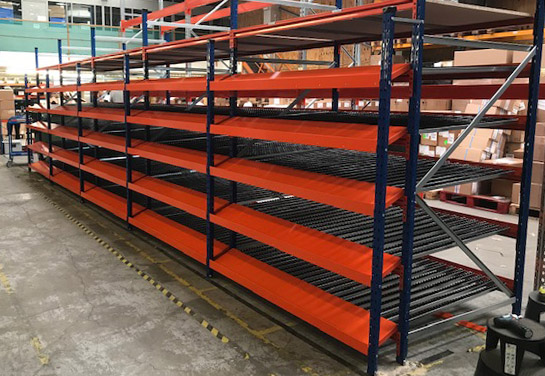 Warehouse and distribution centre storage isn't all about heavy pallets and large static cartons, sometimes a more flexible solution is required to cover fast moving products and/or cartons of goods. In this situation a 'live carton' or 'flow rack' can be used to create storage systems that automatically bring the next box down to the picking location.
You can have bespoke systems created to your exact specification, made from custom designed parts but that method is both expensive and very time consuming, it is also not a viable option if you only want a few bays of live carton storage. We recommend incorporating roller levels that can be easily installed within existing racking units or as part of a new shelving system at a very cost-effective price.
The example shown here (right) has been created using our popular heavy duty longspan shelving system. Instead of chipboard decks, each storage level uses roller wheels set at a slight incline to provide a 'live' rolling storage solution. Cartons/boxes of goods can be loaded from the rear of the unit and they will automatically slide to the front of the unit. This particular solution has an extra front section fitted (requested by the customer) which allows the user to hold the first box of each column at the perfect angle for stock picking.
If you are considering using live carton storage racking within your warehouse or distribution centre, please call us on 01993 779494 to discuss all of the options.
FOR HELP, ADVICE & SALES CALL US