CD, DVD & Video Game Racking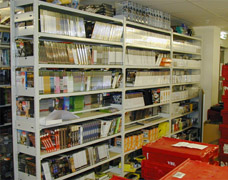 Music and video game retailers have a specific need for very narrow profile shelving suitable for storing large volumes of boxed media products. CD's, DVD and computer games also need to be stored in a logical order so that they are quickly and easily located by staff members, having the correct shelving system can drastically improve pick rates and increase overall storage capacity.
EZR work with several of the leading music and digital media retailers in the UK to provide practical and efficient stockroom DVD & CD shelving systems. Special narrow shelves have been developed specifically for this industry allowing media cases to fit perfectly onto each shelf with virtually no wasted space.
A central bar on the back-to-back racking shown above provides a back stop to separate stock and prevent boxes from being pushed through. The narrow uprights and slim shelf beams together with 25mm height adjustment help to adapt to any stock profile, ensuring maximum storage capacity.
High street retailers have to dedicate most of their shop's overall space for use as a shop floor sales area, the stockroom often ends up being very small and unable to cope with the stock required to run a retail outlet correctly. Single depth media racks are perfect for use in such environments as they can be placed against walls in narrow corridors and in other places where traditional free-standing racks are not suited.
Due to the tall and narrow profile of this type of storage rack it is essential that measures are taken to securely fix the racking for safety and stability. Racks can be fixed back to a wall, fixed to the floor, or if the floor is unsuitable then units can top tied for stability using a specially designed overhead aisle tie.
FOR HELP, ADVICE & SALES CALL US ON 01993 779494
Contact us today to find out more about our specific CD shelving systems and DVD and video game racking solutions. We offer a free storage design service to help you create the most cost-effective storage solution for your business, call us today to speak to obtain a free quotation based upon your own storage requirements.
Mobile Media Shelving
Mobile Shelving is the ideal solution for storing large volumes and provides the maximum capacity within the storage area whilst proving good access by opening the required aisle.
The first example shown below was for a large television company, they used space-saving mobile shelving units to store over 250,000 indexed video tapes. The specially designed drawer units created an efficient way to store the fully indexed media, this has since been converted to DVD storage. The mobile shelving utilises the full room height and shelves are used at the upper levels where gaining access to drawers is not practical.
The storage solution shown to the right is part of an extensive mobile racking project for a well known DVD film rental company. Trimline shelving bays with cardboard picking bins on every level are mounted to movable chassis bases. This creates a compact yet easy to use system that is capable of holding over 1 million discs.
These modular mobile shelving systems can easily be removed or relocated to suit the changing needs of your business. Please contact us to discuss your specific media storage requirements.