We offer a wide range of products that are suitable for distribution centres and ecommerce fulfilment facilities. Here is a selection of our most popular order picking and storage products but if you need something which isn't featured here, please give us a call on 01993 779494.
Fulfilment Storage Shelving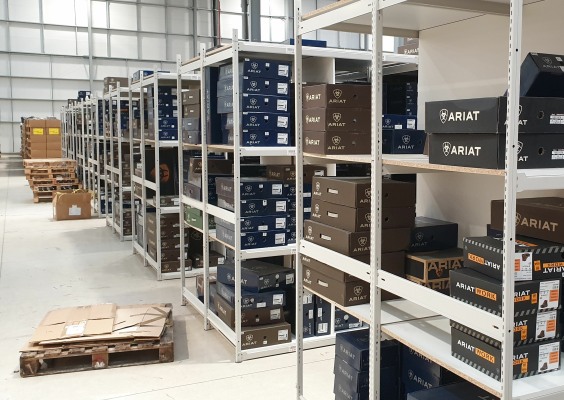 Shelving and racking play an important role within all e-commerce fulfilment centres and we offer a complete range of solutions to cover even the most diverse of product ranges. E-Z-Rect Trimline shelving (shown here) is our most popular racking system for distribution centres and fulfilment operations.
The slim shelf beams and common upright posts give excellent clear-entry access to every shelf and are easily adjustable to suit an ever changing stock profile. The Trimline system is extremely strong and durable yet easily accepts a variety of shelf types, garment rails and even intermediate workbenches or packing stations.
Contact us today to discuss your fulfilment or distribution centre shelving requirements on 01993 779494.
Mobile Containers & Trolleys For Order Fulfilment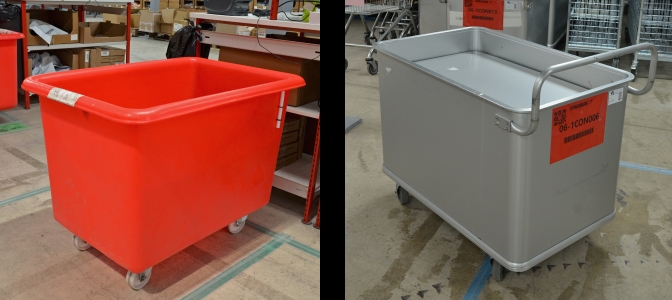 Moving products around within a warehouse or distribution centre is an important function to get right and having the right selection of trucks, trolleys and mobile storage containers can greatly increase the speed of order fulfilment.
Many of our clients use large plastic storage tubs mounted on castor wheels to move product from storage to processing benches, these have excellent storage capacity - meaning less trips to the storage aisles.
Another alternative are the self-levelling trolleys, these cleverly designed trucks have a spring loaded base section that drops as more weight is added. Although more expensive to purchase, these trolleys mean that your staff no longer need to bend over into the truck to gather the products - meaning less back ache complaints and quicker order picking.
We can supply a wide range of trolleys in many different styles and colours, contact us for further information on our range of fulfilment trolleys and mobile storage containers.
Pallet Trucks For Distribution Warehouses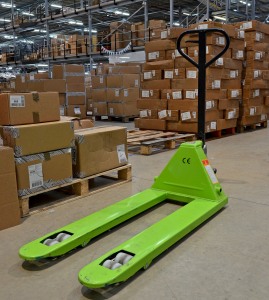 Forklift trucks are great but they do have some drawbacks; they are very expensive, they need a licensed operator and they take up a lot of space in the warehouse. A great alternative is to utilise a fleet of pallet trucks that anyone can use to manipulate pallets of goods into the perfect spot for storage or replenishment duties.
The simple design of the pallet truck hasn't really changed, you pump the lever to increase the height of the forks and the heavy duty rollers let you pull around a pallet of stock with relative ease.
There are many different models of hand pallet trucks available encompassing different weight capacities, fork lengths and even a full range of colour options (tip: bright colours are easier to spot in the warehouse when you are looking for one).
Prices start at around £200 for a basic model and go up from there based upon what size, features and specification you need. We can supply a complete range of pallet trucks to suit your application and discounts are usually available for bulk orders.
Fulfilment Centre Waste Bins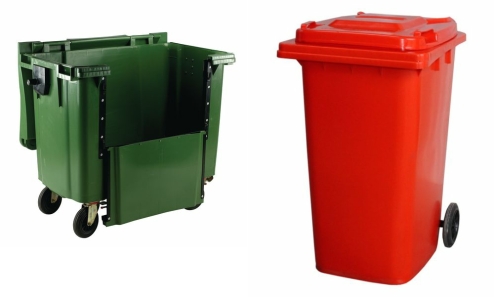 The inevitable waste that comes from warehouse operations is often cause for concern for fulfilment & distribution centres. Every box that is opened creates cardboard, strapping, plastic bags and other packing waste that needs to be dealt with in the correct way.
Waste bins like the ones shown here provide an effective way to keep rubbish off of the floor and to maintain clear shelving aisles. An array of plastic wheelie bins is an excellent way of ensuring staff can always find somewhere to dispose of waste as they can easily be placed at key locations (such as at the end of racking) without impacting too much on floor space. There are also larger, more industrial sized bins available that can hold considerably more waste which works better if you want a more centralised waste location.
Distribution Centre Gravity Feeder Rollers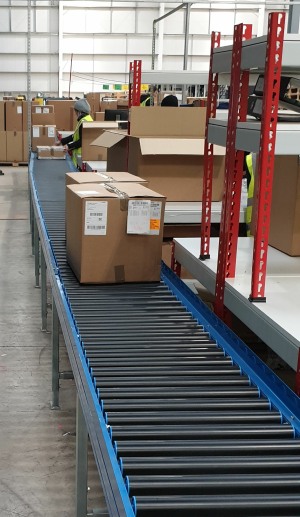 Fulfilment warehouses that are organised to flow in one direction from stock picking to processing, packaging and dispatch are best suited to a product commonly known as gravity rollers. These rollers are used to feed individual items or boxed cartons from one destination to another without assistance from man or machine, feeding picked items to packing stations or processing tables within the e-commerce fulfilment process.
The accurate design of each feeder roller systems is key to achieving the desired free-movement of stock. Precise measurements of the warehouse have to be taken to obtain the correct drop from the start of the journey to the end along with technical details such as typical box size/weights. A typical 21m run of gravity rollers would have a fall of 500mm from end to end giving a drop of 2.4% but this can be easily increased/decreased thanks to the adjustable legs of our roller framework.
There also need to be considerations for off-loading and processing points where the rollers may need to slow down the items or even stop them temporarily until a worker has performed a task.
Gravity rollers are typically between 300 and 750mm wide and supplied in sections of up to 3m in length. Different sized rollers can be specified along with the distance between them (roller pitch) to accommodate the boxes or products that need to be moved.
Contact us today on 01993 779494 to get a bespoke quotation on the perfect gravity roller system for your business.