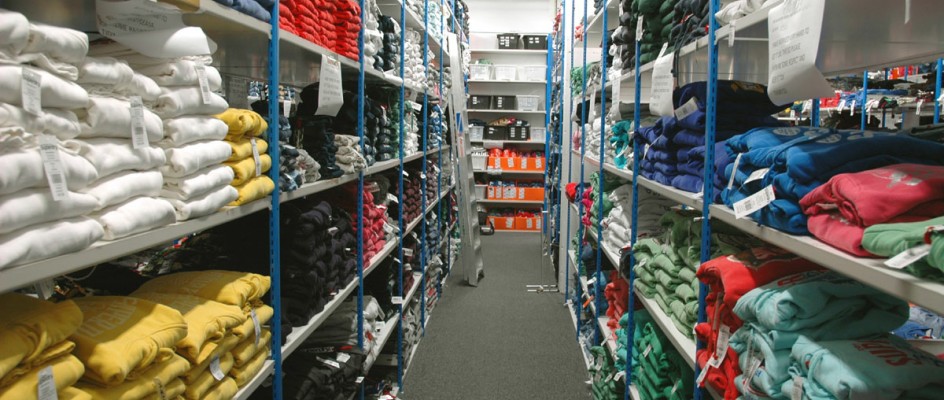 When there is a need to store flat-pack folded apparel within a retail stockroom stockroom, our high quality garment shelving systems provide the perfect solution to help increase capacity and usability in retail stockrooms. A popular choice for many high street retailers is the E-Z-RECT Trimline stockroom shelving system, adjustable shelves, low profile shelf beams and white hard-wearing laminated shelf panels ensure high density stacks of loose clothing are easily accommodated.
Stockroom garment shelving is normally configured as double-depth bays for quick access of stacked garments from either side of the rack. This Provides a practical and cost effective solution that guarantees maximum, workable stock capacity in any store room. Our modular stockroom shelving components can be configured in a multitude of sizes and styles to suit your specific requirements. Each clothing stockroom is different and we pride ourselves on making the most of every available inch of space.
Garments are either stored folded or on hanging rails, most retailers prefer a combination of both varieties depending on the type of clothing being stored and how the stock arrives through the distribution network.
The shelving applications shown here are used by leading fashion brands and retailers to store folded garments, where the benefits of Trimline shelving help to maximise stock density. The combination of slim shelves, narrow uprights and 25mm height adjustment provides the maximum capacity and can be fitted within and around all of the usual obstacles found in retail stockrooms.
If you have a similar stockroom requirement, please contact us for further information and to discuss how we can increase your stockroom storage capacity for your business.
Image Gallery