Heavy Duty Stockroom Shelving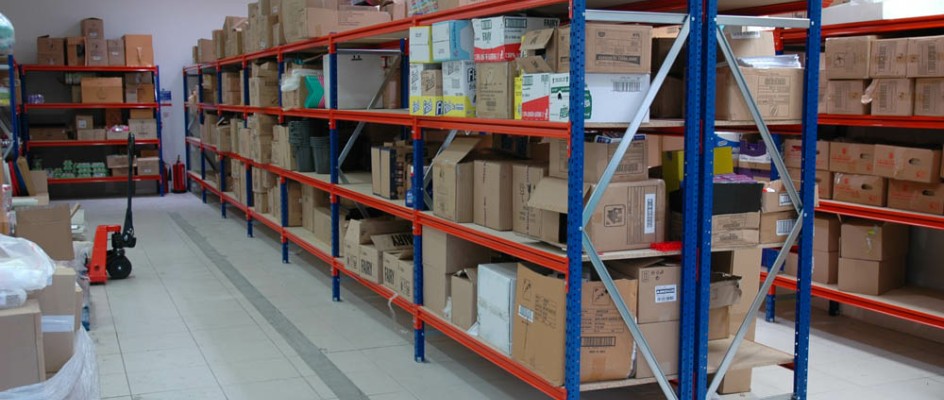 When larger quantities of stock need to be stored within a stockroom, a heavy duty racking system is essential. In these situations, our Longspan and Type 1 heavy duty shelving systems provide the perfect way to store goods in a retail storeroom. The wider span beams and extra shelf depths available with these two systems make them ideal for holding a variety of different items. Larger cartons of goods can stack on the shelves alongside individual items - giving flexibility in how you arrange the stock.
Each shelf level is adjustable in height to create larger or smaller storage spaces to perfectly suit a diverse stock profile. This makes them particularly popular with discount stores who stock a wide variety of products in high volumes. The shelf capacity for these heavy duty stockroom racking units are typically between 400 and 1000kgs per shelf level (UDL). Each solution provided can be tailored to the client's own requirements, this allows the shelving bays to be configured to a specific weight loading.
The photos here show examples of our heavier duty racking systems used within several different stockrooms. Every stock room is different, awkwardly shaped rooms and large gangways can make it difficult to maximise every inch of space. Some products are also more challenging to store efficiently. Back-to-back shelving bays help by giving space-saving, double-depth storage sections. These have the added benefit of being able to hold longer pieces without overhanging the shelf edge. All of our heavy duty storage racks can be supplied in a vast range of lengths and depths to suit any given space.
Image Gallery
FOR HELP, ADVICE & SALES CALL US ON 01993 779494
Separate stand-alone 'starter' bays that can stand in convenient locations or you can span the width and/or length of a room with cost-effective long runs of connected shelving. Whichever system and configuration you choose from us, your growing business will benefit from a high quality, strong and durable storage system.
The image (above right) shows the main storeroom of a large shoe retailer. Heavy duty longspan racking has been used extensively within this area to provide storage for thousands of boxed shoes. The long beams of this system have been used to reduce the number of racking frames required in each run - minimising wasted space.
An important feature present in all our stockroom racking products is full 'clear-entry' shelves. Because the posts do not encroach upon the usable shelf width, staff have full access to all items. Even on a fully loaded shelf, boxes stacked next to a frame can still be removed without disturbing neighbouring columns. A comprehensive range of our heavy duty racking and shelving systems are available to buy online at very competitive prices. For help and advice about any of our storage systems and to obtain a bespoke quotation for your stock room please call us on 01993 779494.