Hospital Storage
Our hospital storage solutions are developed for maximum practicality and efficiency in a range of sizes and styles to accommodate an array of essential hospital specific items ranging from medical records to hospital ward supplies.
Hospital Laboratory Storage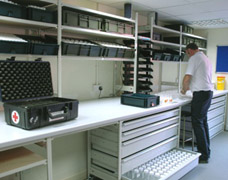 Laboratory storage systems require a specific combination of functional worktops, shelving and drawer space in order to store the many different items found in a hospital laboratory environment.
The Trimline steel shelving used in our Laboratory storage systems provides strength whilst retaining a slim profile together with fine adjustability and a variety of shelving options. Sloping shelves are a popular choice to allow plastic boxes in standard euro container sizes to be used as shown in the photograph below.
Deep workbenches are used to provide a comfortable and efficient work area with storage shelving installed to the rear. Storage drawers are 1200mm wide and can be supplied in 2 different heights to suit the items being stored.
Plastic bins provide shelf picking above the workbench ensuring that all kit components are stored within easy reach.
Our previous experience in designing and installing hospital laboratory storage systems will allow us to quickly and accurately create storage plans suitable for your laboratory area, contact us for more information and a no-obligation quote today on 01993 779494.
Hospital Ward Storage
Hospital ward storage solutions are designed to offer efficient and organized storage of hospital ward equipment and supplies. A combination of storage solutions provide ample room for storing large and small products within narrow units that do not intrude upon the essential working floor space of the ward.
Many hospital wards are packed full of equipment, desks and other bulky items leaving little room for conventional racking systems. Our solution can be tailored to fit within very small spaces and the modular design can be easily modified to include drawers, cabinets, shelving and even general storage space for trolleys and other wheeled items.
The solution shown in the photographs below was designed and installed for the Haemodialysis Hospital ward storage drawers Ward at UHW (University Hospital Wales) in Cardiff. The variety of storage options incorporated into this design included space for plastic storage bins (ideal for everyday ward consumables), a generous worktop area with enough space for a PC and pull out drawers in a variety of sizes that were perfect for storing Saline Solution and Catheters.
If you have a specific storage requirement within a hospital or nursing environment then please contact us to speak to one of our storage design specialists.

Medical Records Shelving
Medical records shelving is a secure and organised solution for storing hospital patient records and other associated documents. This makes it ideal for Health Authorities and Healthcare Trusts where high density storage of files and archives is required. We design each medical shelving system to suit your requirements from a wide range of standard size shelves enabling all of your available space to be used.
If you have existing file wallets or boxes then we will design a storage solution that is optimised around those to maximise storage capacity. We are also able to supply file folders and the Lloyd George Boxes that are often used in doctor's surgeries at very competitive prices. If you are moving premises or creating a new storage system that requires a large file transfer, we can help with that too.
EZR's Medical Record Shelving is painted with a unique coating called ACTIVECOAT which impedes the growth of bacteria and reduces the risk of cross contamination from surfaces with high contact frequency.

ACTIVECOAT is a new, hard wearing, patent-protected powder coating containing elemental Silver ionically bonded into a bio-compatible ceramic material known as a Zeolite. Especially suitable where stringent hygiene standards are required, such as health care environments.
ACTIVECOAT has been tested by an internationally recognised microbiological testing laboratory for antibacterial performance, against the most widely encountered and problematic organisms including: ASPERGILLUS NIGER, STAPHYLOCOCCUS AUREUS (MRSA Super Bug), PSEUDOMONAS AERUGINOSA, STREPTOCOCCUS & ESCHERICHIA COLI (E-coli)
Mobile Shelving For Medical Records
Record keeping in hospitals and other healthcare facilities requires a very organised and efficient storage system to cope with the large volumes of records that need to be accessed frequently. Well designed static shelving can provide excellent storage capacity but for true high density file storage a mobile shelving system is essential.
Mobile shelving is the ideal solution for storing medical records and provides the maximum capacity within the storage area whilst proving good access by opening the required aisle.
Ideal for Health Authorities and Healthcare Trusts where high density storage of files and archives is required. Mobile Shelving can increase capacity by 100% in many applications, compared to conventional fixed shelving, freeing up valuable office space.
Contact us today to find out more about our range of medical record shelving and storage solutions.