Long Box Storage Racking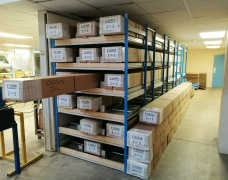 If your product range includes particularly long items or you have products that are stored in long cartons, it can be difficult to store them effectively. In these situations, the most common method of storage is to stack the items/boxes in a big stack. This is fine if all the boxes are the same and you can just pull one from the top but what if the items are all different? The answer is to install a dedicated racking system that can handle the extra length of these products whilst also allowing easy access to all of the stock.
The racking shown here was designed and installed for one of our clients to provide a practical storage solution for storing some particularly long boxes. These boxes are over 6 feet long and because of their weight they are particularly difficult to handle. Before these racks were installed, the boxes were stacked on top of each other in a pile which made removing anything but the top few boxes a real pain. Now with the stock stored on this new 'flow-style' rack, any of the items can removed with minimal effort without disturbing the other goods.
Long box storage racking is based upon our popular Trimline shelving system combined with custom roller sections and our heavy duty slotted angle designed to suit the type of boxes/products that need to be stored.
Contact us on 01993 779494 for further information about these long box storage racks and our bespoke storage solutions service.