Industrial Pallet Racking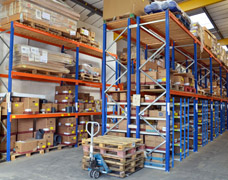 Capable of storing large individual items and palletised goods with ease, industrial pallet racks provide a versatile and strong storage system that is widely used warehouse and factory environments.
EZR Shelving is one of the leading suppliers of industrial strength pallet racking in the UK. With a large variety of racking systems available, a uniquely designed solution can be easily supplied to match your specific storage requirements.
Pallet racks store palletised goods in horizontal rows that contain multiple levels. Forklift trucks are required to place the heavy pallets onto the storage racks but this allows much more of the available room height to be utilised to provide maximum storage capacity.
The key to a successful stores operation is an efficient storage layout that contains enough storage capacity to cope with demand during busy periods. Our standard pallet racking systems offer a cost-effective way to store large volumes of stock within a warehouse or distribution centre. More advanced systems such as Mobile, Drive-In and Push-Back systems offer more improved functionality such as increased storage and quicker retrieval rates.
To protect your pallet storage areas we recommend that rack protectors and barriers are installed in key areas to prevent accidental damage by forklifts and other manual handling equipment. A comprehensive range of pallet racking accessories can be added to your overall solution so that upon installation, your racking system is safe, clearly labelled and ready to use.
FOR HELP, ADVICE & SALES CALL US ON 01993 779494
Whether you need a few bays in a warehouse for storing a few pallets or a large scale installation into a distribution centre, we can provide industrial strength heavy duty pallet racking systems that are designed around your specific requirements - giving you the maximum amount of racking space for your money.
With over 30 years experience in supplying industrial heavy duty racking solutions, we specialise in supplying high quality installations at very competitive prices. Call today on 01993 779494 to find out more about our racking for heavy duty storage applications.
Push-Back Pallet Racking
When a warehouse needs to store large quantities of palletised goods within a confined space, a different kind of storage system is required. Push back pallet racks provide a high density storage solution that can dramatically increase the pallet storage capacity of any area.
Where bulk warehouse storage and inventory management are important factors, push-back racking is the practical and cost-effective solution capable of storing up to 50% more stock within the same floor space as standard pallet racking.
How does Push-Back Racking Work?
Pallets are stored one behind the other up to 4 deep, pallets are loaded onto the specially designed carrier which pushes everything within that section backwards. When a pallet is removed, all of the remaining pallets simply roll forwards (via a combination of the wheeled carrier and gravity) until they reach the front of the racking.
Pallets are accessed from the front of the racking unit only so therefore require a last in, first out system to be used.
For the best way to show how this system works, watch our demonstration Push-Back racking video below:
Dynamic Push-Back racking is used mainly for long term storage, the clever design lends itself to high volume bulk storage where each product type can have its own storage lane
We can design a bespoke Push-Back racking system for your warehouse based upon the product that you need to store and taking into consideration how much space is available.
| | | |
| --- | --- | --- |
| | | |