Type 1 Heavy Duty Shelving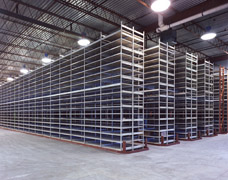 The E-Z-Rect Type 1 heavy duty shelving system is ideal for storing heavy and bulky items within a warehouse or larger stockroom thanks to its wide spans and heavy duty beams that can support up to 430kg per shelf.
The uninterrupted shelf access reduces wasted space and with shelf adjustment every 50mm in height, varying sizes of stock can be easily accommodated within a Type 1 Heavy Duty racking system.
Type 1 heavy duty racking is commonly used in warehouse environments. The grey epoxy finish and attractive slimline design also lends itself to be used as commercial and front of store shelving.
The quick and easy boltless design allows very quick changes to be made to the system when required without the need for specialist tools or skills.
Strength and rigidity are major plus points for Type 1 Heavy Duty shelving and this modular storage system can be designed to include multi-level mezzanine or catwalk structures for high density and practical storage.
Our design team can create a heavy duty racking system based around the specific requirements of your warehouse or stockroom, a free site visit and design service will provide you with all the details you need in moving forward with your new storage plans.
Image Gallery