Book Storage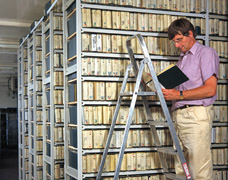 Heavy duty book storage shelving for archive storage of books and ledgers. The storage system shown below is used for the archive storage of the payment record books for Liverpool & Victoria Insurance - from the days when insurance premiums were collected door to door each week!
Trimline book storage shelving with slim shelf beams combined with 25mm height adjustment allowed the customer to gain an extra storage level providing an 8% increase in capacity. The shelving's narrow upright design allows a clear uninterrupted shelf width of 1220mm and this provided a total capacity increase of over 10% compared to the other systems offered.
The archive book storage shelving shown above was designed with double depth shelves to accommodate two books back to back on each shelf and the system was top tied to provide extra stability.
Related Articles: Archive Box Storage