Mobile Archive Shelving Solution In The Shard
19 December 2013 | Jon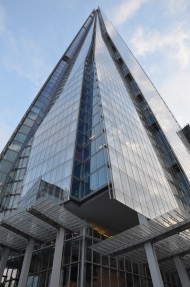 EZR Shelving have once again been working hard in the capital city, this time providing an archive shelving solution for a high profile, American financial services company in The Shard.
With a height of 306 metres, The Shard in London Bridge Quarter is currently the tallest building in the European Union and dominates the local skyline. This magnificent building's design actually takes inspiration from the church steeples of the 18th century rather than a broken piece of glass as many people assume. Inside the structure you will find a hotel, 3 restaurants, residential homes and 25 floors of dedicated office space.
It is within the office space that this latest project took place, by request of the customer the installation was broken down into 2 sections: The first part involved installing 62 bays of static shelving into offices on level 4 to provide temporary storage whilst a specific archive area was being prepared.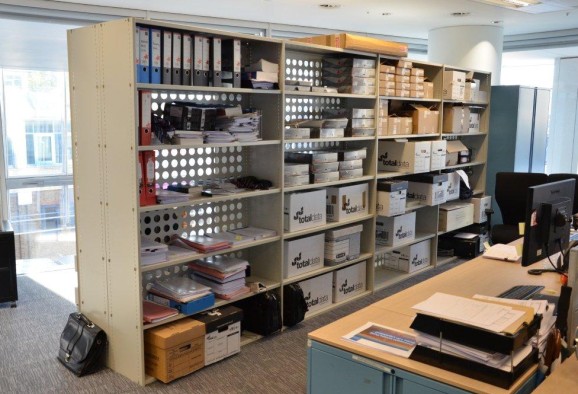 Special perforated back sheets (as seen in the photo below) were used throughout and in this interim storage setting you can see how this feature allows a good amount of natural light from those full length glass windows to shine through.
As soon as confirmation was received that the 14th floor archive room was complete, work on the second stage of the installation could begin. This entailed the dismantling of the shelving units, transporting everything up 10 floors, then rebuilding the units in a new configuration.
Disruption to the busy working office was reduced to a minimum by transferring the shelving between floors in an overnight operation.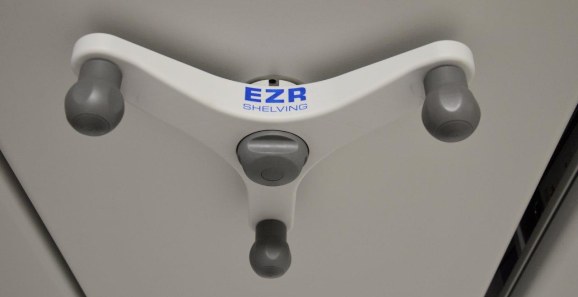 The archive storage area had already been fitted with special low profile tracks in readiness for this next stage. The shelving units that were previously being used downstairs were transformed into movable racks by mounting them onto hand-wheel operated mobile bases. The racks were then mated to the floor track and fully checked before providing staff members with a demonstration of how to safely operate the units.
The client now benefits from a high density mobile shelving solution capable of storing several hundred lever arch file folders in an organised and efficient manner.
Why Use Mobile Shelving?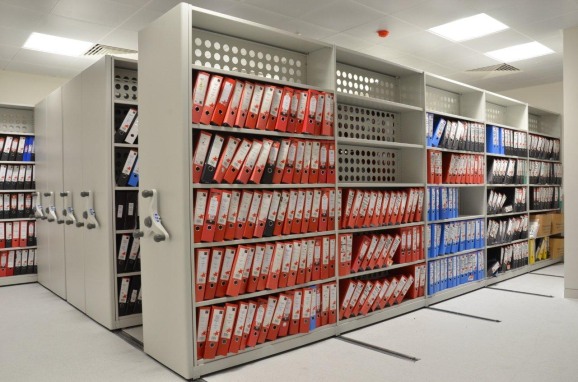 Mobile file shelving increases the stock capacity of any room by simply condensing all of the wasted aisle space that you usually find between static shelving bays.
Lockable, rotating hand wheels allow the effortless movement of one, or any number of sections to allow convenient access. In an office environment, where space is at a premium, mobile storage systems are often the only practical choice for storing large volumes of archive files.
The perforated back sheets that are now part of the mobile shelving system allow air circulation even when the units are fully closed, helping to eliminate moisture - an important factor when storing large quantities of paper documents.
EZR Shelving can supply and install high quality static and mobile shelving solutions for any business need, call 01993 779494 for further information and a free quotation.