Art Storage Solution at Central St Martin's College
13 January 2012 | Andrew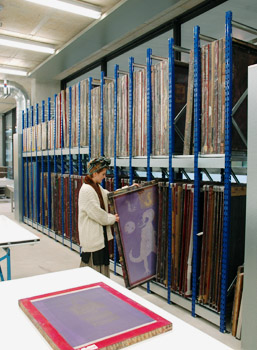 EZR Shelving has completed an exciting storage project for Central St Martin's College of Art and Design at its amazing new campus at Kings Cross in central London.
The Fashion & Textiles, Print & Dye Workshop needed storage for canvas frames, dyes and bespoke paint pot trolleys to fit beneath the workbenches.
The project took three months from start to finish, requiring a prototype of the pull-out art panel storage system designed to suit different sized frames used by the students.
Art storage racks formed the perimeter of the Print and Dye Workshops and low height painting rack storage, capped with attractive hardwood, skirted the glass walled staff office.
The art panel storage racks, designed to suit various sizes of canvas frames, incorporated a full width roller at the front of the rack to enable frames to be guided easily in and out of the storage system.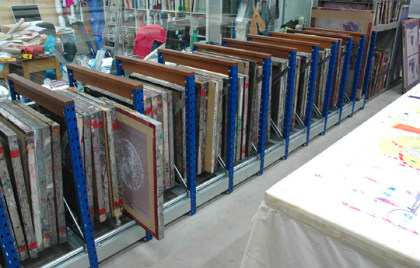 As a storage equipment manufacturer, EZR Shelving has the ability to work closely with our customers to arrive at the most cost effective and space efficient design to suit the items being stored. The bespoke art racking units used standard heavy duty uprights with bespoke tubular shelf supports to provide the solution shown left.
Specialist dyes are used within the print and dye workshop and stainless steel shelving was also required with removable shelves so that any spillages could be easily cleaned.
Stainless steel shelves were developed to fit onto EZR Shelving's Trimline Storage Shelving and these provided fabulous finish as well as a highly practical solution with fully adjustable shelves. Paint pot trolleys were required to fit under the work benches to allow the students to transport their project material from the storeroom.

Trolleys were designed and manufactured to the customer's specific requirement and paint trolleys were zinc plated to prevent corrosion and to allow spillages to be easily cleaned.
Central St Martin's College of Art and Design, one of London's most revered art institutions, has moved to a new site at Kings Cross Central, which incorporates the historic Cubitts Granary building (circa 1851) and the east and west transit sheds in the old railway goods yard adjacent King Cross and St Pancras railway stations.
This impressive building has a glass roof and open foyer, linking the old east and west transit sheds, that students can use to relax when they're not studying!