Avro Lancaster Restoration Project
15 July 2016 | Jon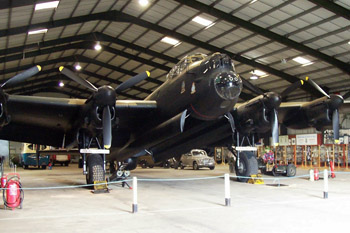 It is always a pleasure to see the more unusual organisations and businesses using our range of storage products, this example is perhaps one of the most interesting we have had for a while.
The Lincs Aviation Heritage Centre at East Kirkby Airfield run a museum that is a living memorial to the thousands of men in bomber command who lost their lives during WW2. Among their collection of wartime vehicles is something very, very special: an Avro Lancaster Bomber, one of the rarest aircraft in existence.
The family run museum was setup over twenty years ago and continues to grow in both popularity and size every year. Their prized possession is the Lancaster bomber (shown above) model number NX611 "Just Jane". The plane has been undergoing an extensive restoration that will one day hopefully see it return to airworthiness. As you can imagine there are a huge number of parts, components and fixings to store and keep track of, especially as there are over 50,000 parts to every Lancaster (excluding nuts, bolts and rivets). EZR Shelving supplied a range of high quality, heavy duty plastic picking bins to the museum that are perfect for this type of storage. Industrial strength picking bins can be attached to l
ouvre panels, stacked in columns to create organised storage sections or used as handy shelf or workbench parts bins.
The Lancaster (along with the Spitfire) is an icon of the second world war but also a reminder of the great losses during battle in the skies. The amazing work that the Lincs Aviation centre is doing will help future generations to appreciate not only what an amazing machine the Lancaster is but also as a reminder of the sacrifices bomber command made for our country.
There are lots of interesting articles and videos on the Lincs Aviation Centre website. This fantastic project is always looking for extra funding. If you would like to help return this piece of aviation history back to the skies, please make a donation, or alternatively you could book a special VIP taxy ride in the Lancaster - what a great present idea for a loved one!