BAC Mono Supercar Launch
23 December 2013 | Jon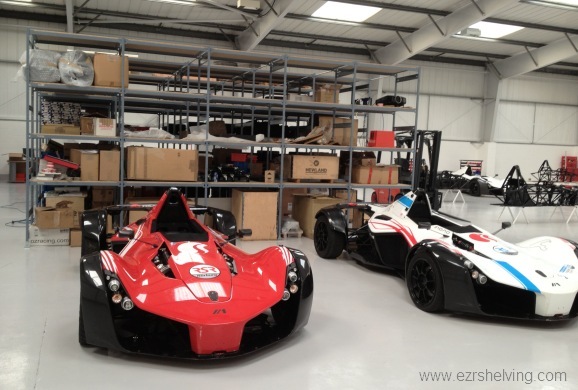 EZR Shelving were invited as special guests to last Thursday's launch event for the BAC Mono supercar at the new 11,000 sq ft. factory located in south Liverpool.
This track focused, lightweight car for the road exploded onto the scene earlier this year when it appeared on the BBC show Top Gear. After a rave review from Jeremy Clarkson, the Stig managed to set the 2nd fastest time around the Dunsfold test track for a road legal car - eclipsing many legendary supercars in the process. This performance coupled with the stunning, race car inspired looks of the Mono created huge demand, necessitating a move into larger premises.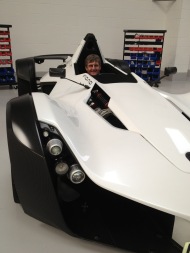 Our Managing Director, Alan Morton has been working closely with Briggs Automotive over the past few months in readiness for the launch, to help them decide upon the correct storage solutions for their new factory.
You can clearly see our Type 1 heavy duty shelving being put to good use already. As the factory develops, the racking structure has been designed to easily convert into a 2-tier storage solution to cope with future parts storage as and when required.
Alan was lucky enough to try out the cockpit of the Mono (see photo above), but if he wants to order one he will have to be patient... Despite a price tag starting at £110,000, this 280bhp car weighing just 540kg is proving to be too tempting for sports car enthusiasts and there is already a 14 month waiting list for new orders. This is good news for the long term future of the factory and will create around 30 jobs to help boost the local economy.
We wish the Briggs Automotive team every success with their new venture and look forward to working with them in the future.
To find out more about this amazing supercar, visit the BAC Mono Website