New Bespoke Laptop Charging Unit In Development
1 June 2012 | Jon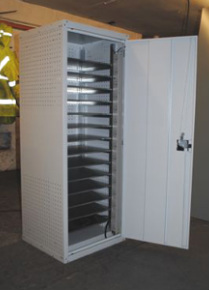 EZR shelving are putting the final touches to a new 15 unit laptop charging unit commissioned by Balfour Beatty - one of the UK's largest construction service companies.
Laptop charging cabinets simply plug into a standard wall socket and allow laptops or netbooks to be stored securely and remain fully charged ready for the next lesson. Charging trolleys are also available to allow easy movement between classrooms.
This bespoke unit is designed to hold up to 15 laptop computers with 14 standard sized shelf apertures and 1 area at the top to accommodate larger devices if required.
62 laptop charging lockers will be supplied to a new college in Manchester in August, improving the overall ICT function and providing secure storage for the entire fleet of school laptops.
This is just one of the many bespoke storage products that we design, manufacture and install for our large range of customers, if you have a specific storage requirement then please contact us on 01993 779494 or email: sales@ezrshelving.com
Update: 10/07/2012:
We are pleased to announce that the successful completion of our bespoke laptop charging unit last month has been followed up by a 2nd order for 52 units to be delivered to the North Chadderton School in Oldham.