Best Selling New Product 2009 - Laptop Charging Trolley
10 December 2009 | Andrew
EZR Shelving has enjoyed huge success with it's best selling new product of 2009.
Laptop charging trolleys were introduced in April 2009 offering a low cost, high quality solution for laptop storage and charging in schools.
Laptop charging trolleys provide secure storage of 8 or 16 laptops with 3 pin sockets in each compartment so that laptops remain fully charged. The trolleys allow laptops to be wheeled between classrooms providing total flexibility.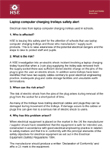 Charging Laptop trolleys compliment the range of laptop charging lockers and laptop storage lockers and are certified to EU standards, and supplied with a CE mark.
Our customers were re-assured in October when the HSE published a warning notice that some manufacturer's laptop charging trolleys did not have the CE mark and that there was a risk of electric shock. A Declaration of Conformity is available for the EZR laptop charging units.
Click the image to download the HSE Warning Notice....
"We're delighted with the sales that we've had this year" comments Andrew Musty from EZR Shelving, "it's great when a new product is so successful and the HSE Warning Notice has probably helped us"
Schools are under many financial pressures during uncertain times, and with pressures to change upon them, schools appear to be treating ICT budgets with caution. Ring-fenced funding for ICT has ended and schools are making their own purchasing decisions.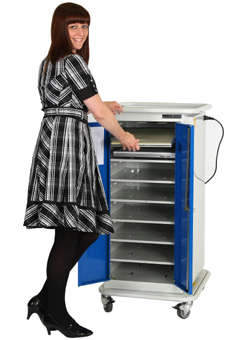 With the increased use of laptop computers and predicted budget constraints, a cost effective solution for laptop storage and security is vital to reduce computer theft. Schools can protect their ICT investment with high quality secure storage and re-charging solutions for less than you might think.
EZR's range of laptop storage cabinets and trolleys provide schools with the flexibility and functionality they need to support the use of ICT across the curriculum by providing a high level of security for their valuable IT resource at an affordable cost.
As well as mobile storage and charging solutions EZR has a range of static laptop charging cabinets providing secure charging facilities for 8 or 12 laptops.
The charging cabinets provide secure storage of laptops in ICT departments ensuring that laptops remain fully charged using the laptop's own AC adaptor that plugs into a standard 3 pin socket in each of the compartments.
Both mobile and static laptop charging units are ventilated for heat dissipation and have an anti-bacterial paint finish with a choice of 3 door colours.
A full range of mobile Laptop Charging Trolleys and static Laptop Lockers are available to buy online.
For further information call us on 01993 779 494 or email sales@ezrshelving.com