Combination Racking Solutions
Monday, 14 April 2014 | Jon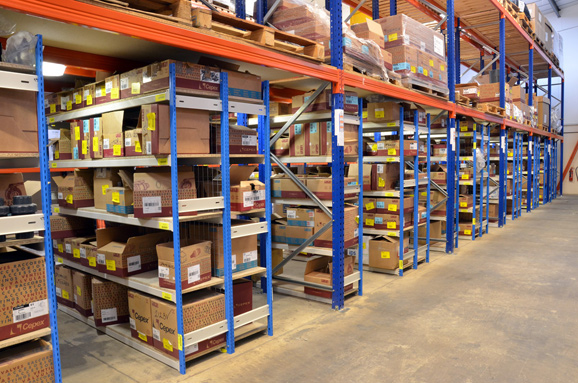 Racking systems are often setup in a uniform manner where the same style of racking or shelving is used with the same number of shelves in each bay, the warehouse or stockroom is then divided into specific areas for different product types. But what if you need to pick small and large items at the same time?
Perhaps some items need to be stocked close together to improve pick rates? In these circumstances we recommend the use of combination racking units, these come in a wide variety of configurations and should be carefully built to suit your stock profile.
The photograph below is a great example of combination racking where the lower level of a heavy duty pallet racking system is used for small parts storage. Medium duty Trimline Shelving Bays have been installed to hold boxed cartons of small components, with palletised goods on the higher levels which are accessed less frequently.
The same principle applies in retail stockrooms, hanging rails, pigeon holes and standard shelving units can all be combined to provide a storage solution that perfectly suits your requirements.
Don't make do with standard, off the shelf racking - call us today on 01993 779494 to find out how we can transform your storage spaces with bespoke solutions.