Creative Labelling System For Mobile Shelving
12 March 2012 | Jon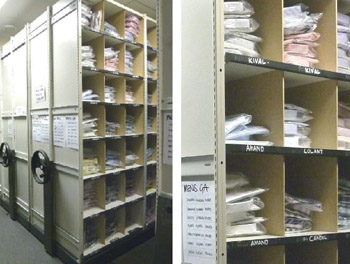 The simplest ideas are often the best and this unique solution shown below in the stockroom at Ted Baker in Bristol proves that point perfectly.
The store benefits from high density mobile shelving units fitted with pigeon hole shelves that create perfect storage sections for a wide variety of clothing items.
To quickly and easily identify every storage location, the shelves have been coated with a special blackboard paint that allows the staff to use chalk for labelling. This provides a non-permanent and flexible way to distinguish between stock segments.
When done properly, stockroom labelling in this style or via regular self adhesive or magnetic ticket holders, can dramatically increase the efficiency of order picking - essential when you are storing large volumes of stock.