Unique High End Trainer Store Opens In London
31 October 2017 | Jon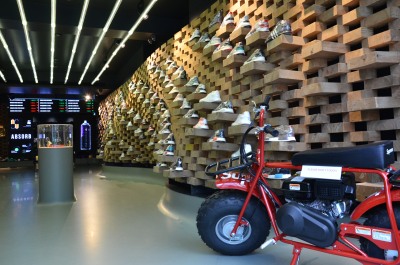 No shopping trip to London would be complete without browsing some high end footwear stores but there is now an exciting new store that specialises in limited edition, rare and exclusive trainers (sneakers) and collectibles.
The shop in Percy Street W1T is a collaboration between Crep Protect - the shoe care and cleaning specialists and Presented By which delivers a truly unique experience for shoppers who love top brand trainers. The store has been designed to the highest standards and features an impressive Jenga style wooden display wall on either side of the shop floor that the shrink wrapped footware sit proudly upon.
From the wall mounted screens with up to the minute pricing information on the most in-demand sneakers, to the waterfall backed shoe fitting area, every effort had been made to make a visit to the store a truly special experience. The really neat part of the store however is the giant Nike shoe attached to the wall, this is impressive enough on its own but the unique projector system that beams different designs directly on to the shoe is truly worth the visit alone.
The demand for rare and exclusive trainers has boomed in recent years, partly due to the rise in popularity of YouTube stars who are ambassadors for certain brands or who search out the latest and greatest footwear and show their loyal fans. This new store is hoping to capitalise on the increased exposure and demand for exclusive footwear and provides a really interesting shopping destination for sneaker collectors.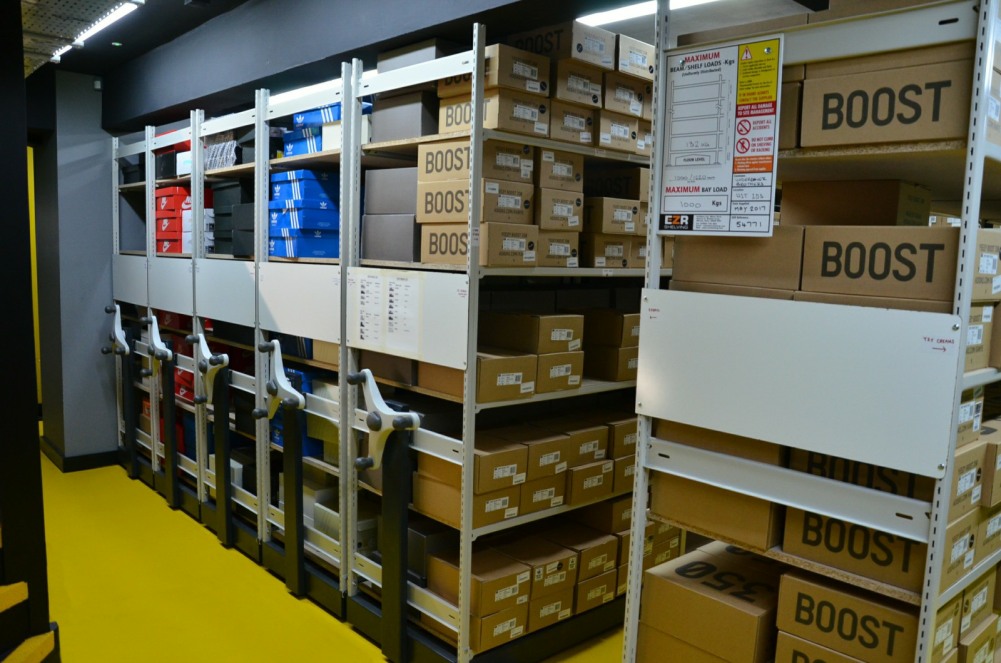 EZR Shelving were contacted by Crep Protect to help them install a shelving system that would work for their compact stockroom. Mobile shelving was the obvious choice for this project (especially when using the E-Z-Rect Trimline shelving system) as it is perfectly suited to shoe box storage applications. With so many designs and size options to cater for, footwear retailers can have difficulty storing enough stock within the main stockroom. A mobile system makes the best use of all the available space by eliminating the wasted aisle space whilst still retaining easy access to the goods. In the photograph above you can see that up to 30 pairs of shoes can be stored on each individual shelf, each movable racking unit is holding several hundred pairs of trainers yet remains super-easy to move thanks to the chain driven roller mechanism and rotating handwheels.
EZR Shelving provide high quality mobile shelving systems to many of the UK's leading shoe brands and retailers, giving them the storage space to cope with the high demands of shoe retailing. Contact EZR today on 01993 779494 to find out more about their efficient and innovative shoe storage solutions.
Photo gallery: