The Crypt School Science Prep Room Solution
25 April 2013 | Jon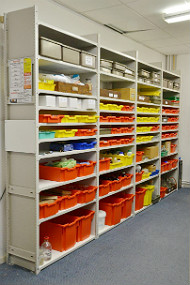 The Crypt School in Gloucester is now benefiting from a brand new storage shelving solution recently installed by EZR Shelving. This storage system was designed around the schools specific requirements to increase storage capacity in their busy science prep room.
Due to the restricted floor space and the shape of the room, a mixture of static and mobile shelving systems were selected as the best option to provide maximum storage capacity whilst retaining easy access to the frequently used supplies.
Each mobile shelving unit is mounted onto a track that is fixed to the floor, once installed these bays are simply moved left and right with the aid of the rotating hand-wheels. The resulting access aisle that is created leaves plenty of room for staff to enter to select items and load them onto a shelf trolley.
A small but important part of this project's specification were the lipped shelves within the racking bays. Use of a non standard shelf beam allowed the shelf panel to sit down lower than normal providing a lip so that bottles and containers can be stored close to the shelf edge without fear of them falling off.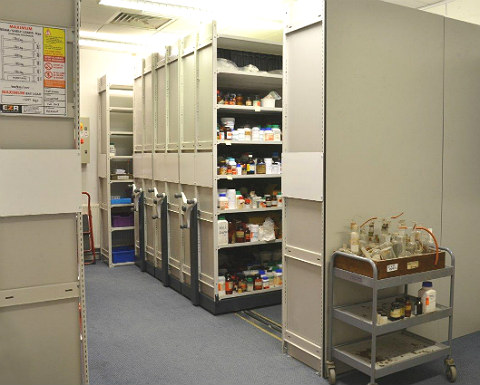 The mobile storage system uses lockable hand wheels as a safety aid to prevent unwanted movement of the units whilst the stock is being accessed. When not in use, the shelving can be simply moved into its fully closed position and locked into place.
Static shelving units complimented the main mobile shelving system, these were used for holding plastic school trays containing a variety of different materials. The photographs here show how the Trimline shelving system can be used to provide practical and efficient storage whilst reducing the impact on usable floor space to a minimum.
To coincide with major renovation works and asbestos removal a quick installation was essential for this project. Completion was achieved within two weeks of the initial site survey, showing how quickly EZR can respond - even for bespoke mobile shelving systems.
If your school requires a similar storage solution please call 01993 779494.