David Cameron Visits EZR Shelving
30 November 2009 | Andrew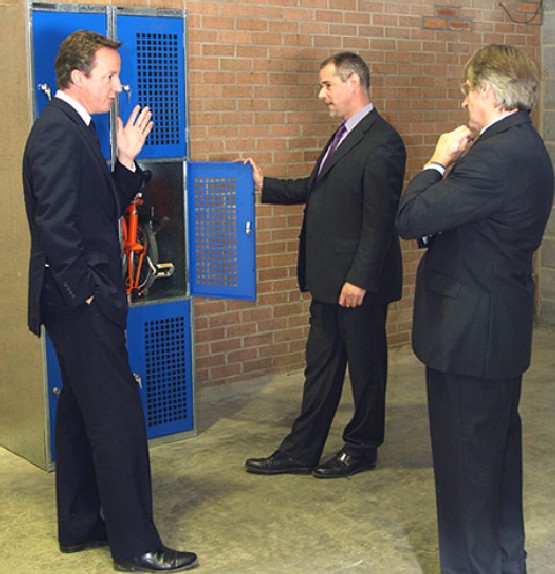 David Cameron was interested to know more about the Brompton bike locker project during his recent visit to EZR Shelving.
Witney based storage equipment manufacturer EZR Shelving has developed a storage locker solution in conjunction with folding bike specialist Brompton Bicycles, that will enable the wider use of folding bikes in London and other cities across the UK.
50,000 'pool' bikes are expected to be in use in London during the next couple of years providing employees with an alternative to grabbing a taxi or jumping on the tube to get to meetings.
Folding bike storage lockers are a fundamental element of the offer that is being made to London businesses and corporations. Companies can lease 50 folding bikes from Bromptons that are fully maintained, insured and supplied complete with storage lockers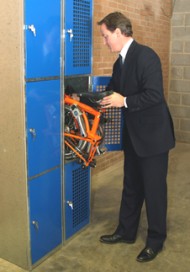 As a keen cyclist David Cameron recognised the benefits that will be brought to businesses and employees - getting across town quicker, reducing carbon footprint, getting fitter, going to meetings on a corporate bike and having fun! All at little or no nett cost to companies and with a positive effect on the environment.
"It would be good to have these at the House of Commons for use during the day" said Mr Cameron "the strength of the folding bike is that you'd take it in with you to meetings and it would be safe."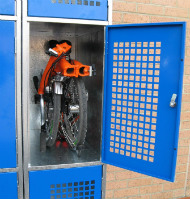 Storage lockers have been designed around the Brompton folding bike with galvanised scratch resistant compartments and perforated doors for ventilation and visibility. Lockers are finished in a range of colours to suit the company's corporate brand or the décor of the surrounding workplace. A range of lock options are available from standard key locks to swipe card locks depending on lockers' location.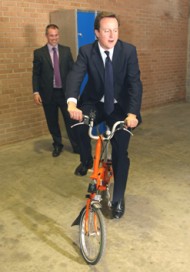 If you'd like any further information regarding our unique storage solutions then please contact us on 01993 779494 or email: sales@ezrshelving.com