EZR Shelving Install First Ever Mobile Shelving System In Uganda
21 October 2014 | Jon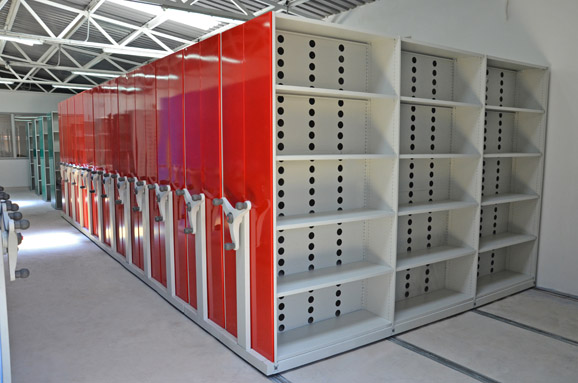 EZR Shelving are well known for supplying high quality mobile shelving solutions here in the UK but their most recent project has provided the Medical Research Council (MRC) with the first ever high density roller racking solution to be installed in Uganda.
This large project located at the MRC's operational base in Entebbe-Uganda provides storage for up to 3 Million pages of patient records and associated files.
The Medical Research Council have been conducting research on the HIV disease and related infections for more than two decades in Uganda, helping to educate African people, facilitate the control of the disease and to improve care for HIV & AIDS sufferers. Due to the epidemic proportion of infections in the African nations, the record keeping requirements are understandable huge - hence why a new archive file storage system was required.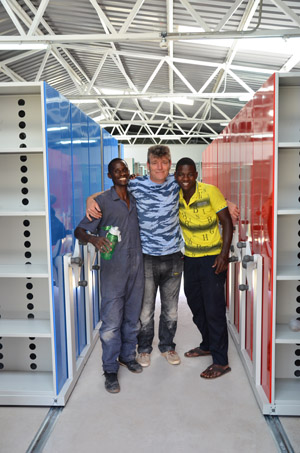 The file storage solution made extensive use of mobile shelving units but also included a static section of shelving to store the most commonly accessed documents. With a total of 183 shelving bays, there is enough storage for up to 12,000 lever arch files or 20,000 A4 ring binders. Colour-coded sections were created by using decorative end panels to clearly define three areas.
To facilitate quick retrieval, daily accessed files are housed in static shelving units with green deco panels. Files that need less frequent access are stored in the blue mobile bays - 3 access aisles allow multiple people to open sections at the same time.
The final section (red) is used for storing documents that are rarely accessed, as such this only required enough aisle space for access to 2 sections at at time. Varying the aisle widths in this manner is a great way to perfectly balance retrieval rates with overall storage capacity.
As well as the decorative end panels, other design features within this project include: Perforated back panels to ensure good air circulation, a low profile track with tapered edges and lockable rotating hand-wheels. The latter of which allows the rolling mechanism to be operated effortlessly - even when the units are fully loaded.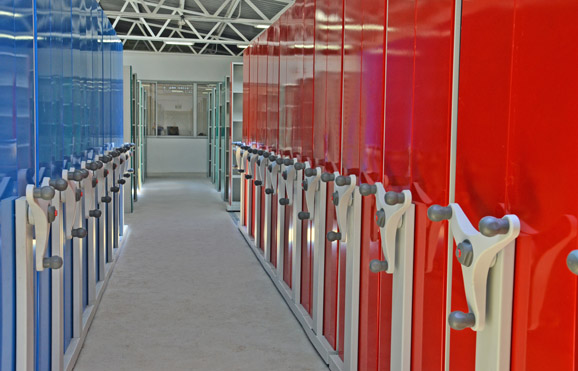 The installation was overseen by EZR's Andrew Musty who commented: "It was a pleasure to work with the Ugandan staff members on-site, the whole installation went smoothly and to schedule. The research centre now benefits from a modern records store that will transform the way files are managed on a daily basis."
To read more about the great work of the Medical Research Council (MRC) visit their website.