Epic Storage Solution For 1 Million DVDs
14 April 2015 | Jon
Ever wondered how the new breed of mail-order film rental companies manage to store and manage all those DVDs? Lets take a look: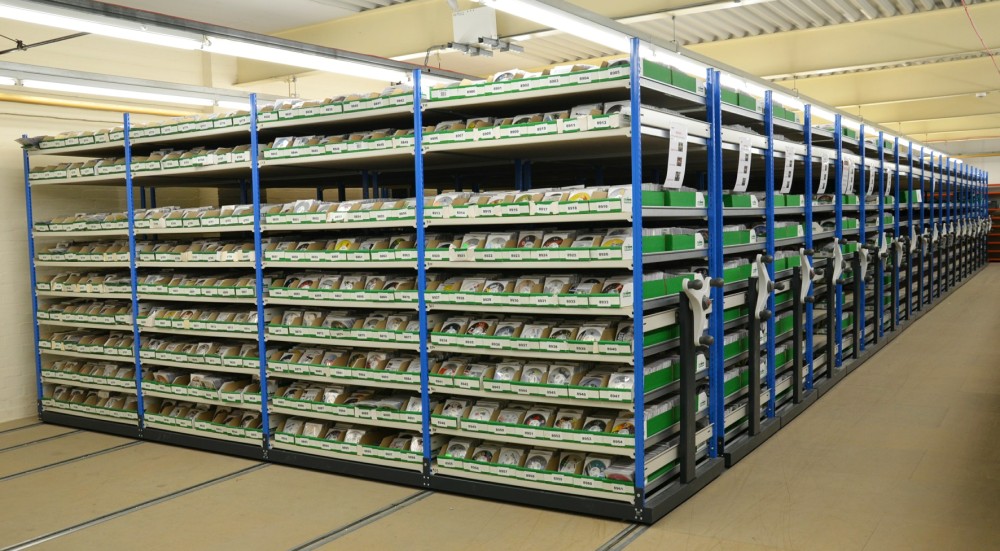 As you can see from the photograph, this industry-leading company utilises EZR mobile stockroom shelving to create an efficient way to store and quickly access up to 1 million DVD discs within only one stockroom.
This system makes great use of our popular Trimline shelving system combined with our mobile chassis base. Each shelf contains thousands of individual film discs stored within simple cardboard sleeves rather than the bulky retail packaging. Sections of films are created via the use of cardboard picking bins which can be easily labelled and moved to new locations when required. The Trimline shelving system is perfectly suited to this type of storage thanks to the narrow profile beams that minimize the impact on usable space and can be set at 25mm height intervals to suit any stock profile.
Because the shelving is mounted onto a mobile base, each storage section can simply roll along the floor tracks to give access to the next aisle. Mobile storage systems like this can remove much of the wasted space that can occur with static shelves. This reduces the amount of floorspace required whilst still retaining excellent picking rates.
Not every business needs such a large scale DVD storage solution but no matter what the size of your stockroom or stock holding, we can provide high quality mobile or static shelving solutions at very competitive prices. Contact us today to find out more on 01993 779494.