EZR Complete Archive Solution For Merthyr Tydfil Council
19 September 2012 | Jon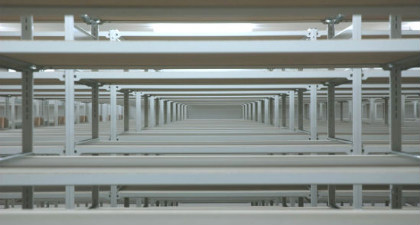 EZR Shelving are pleased to announce the completion of a brand new archive shelving solution for Merthyr Tydfil County Borough Council.
Over 5km of shelving has been installed into the new purpose built archive store located on the outskirts of Merthyr Tydfil. With a capacity of up to 10,000 archive boxes, the solution supplied and installed by EZR Shelving provides storage for the local authority's modern record archives.
The aim of this project was to provide a flexible, cost-effective archive shelving system that remained usable on a day to day basis. To achieve this aim, the size of each bay and shelf aperture were specifically designed around the council's own archive box. This combined with EZR's modular Trimline shelving system with narrow beams and slim uprights, helped to make the most of every available inch of storage space.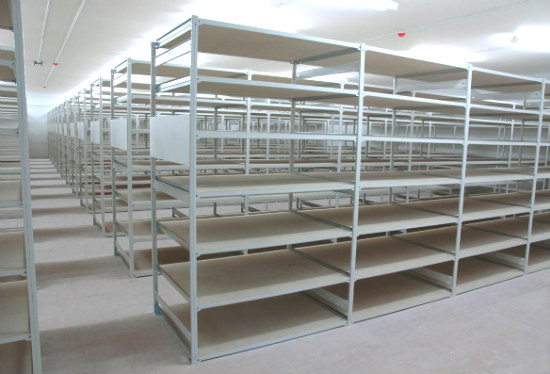 The photos here show how EZR maintained a constant, practical aisle width to enable staff members to easily withdraw boxes for document retrieval. Leaving a large enough gap between the racking also helps to facilitate the use of step ladders to safely access higher shelves if required.
Both the ground and first floors were utilised in this project with the former requiring a different design approach in order to work around the building's structural columns. Single depth 18" shelving bays installed back to back provided the solution to this particular problem, the use of spacer tubes created a cavity between the shelving bays large enough to accommodate the steel columns.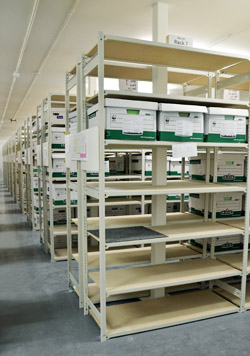 The 1st floor storage space was open plan without obstructions, enabling this level to benefit from the most cost effective option of double depth 36" deep shelves which allow 2 archive boxes to be stored one behind the other.
Double depth archive shelving with 7 shelf levels is a popular choice for archive storage and can give significant cost advantages over single depth units.
This type of archive storage solution can be tailored to suit any business with a need for storing archive documents, from small office archive rooms to large institutional archive stores.
The EZR Trimline shelving system can be easily designed to accommodate both standard and bespoke archive boxes for maximum storage capacity.
Contact EZR Shelving today on 01993 779494 for further information regarding archive shelving and racking systems.