EZR Contribute To New National Fire Protection Publication
17 December 2012 | Jon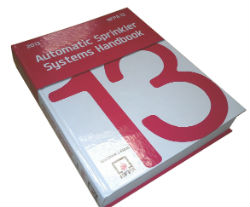 EZR Shelving are proud to be a contributor to the 2013 Automatic Sprinkler System Handbook published by the National Fire Protection Association.
This extensive 1228 page manual features fully up to date sprinkler system data and guides on equipment cost-effectiveness.
An essential tool in ensuring sprinkler systems are designed and installed to the highest standards to safeguard property from fire damage.
For further information visit the NFPA Website.