Helping European Retailers Prepare For Christmas
9 December 2013 | Jon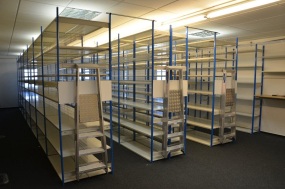 We are pleased to announce the completion of another two European stockroom installations within the McArthur Glen group of retail villages. The sites located in Parndorf, Austria and Neumunster, Germany have been preparing for what is expected to be a very busy festive period on the continent.
Helping preparations, the EZR installation team have been busy installing Trimline shelving units within both of the retail stockrooms.
With fully adjustable shelves, slimline posts and narrow beams, the shelving has been supplied to make full use of all available space, ensuring maximum stock capacity whilst still retaining good access.
A range of additional features were provided within these projects that include: Wipe boards for rack labelling, prep benches to provide a flat surface for folding, bagging and tagging garments and even bespoke ladder hangers.
These are just two of the many storage solutions that we supply every week throughout the UK and Europe, contact us today to find out how we can improve your retail stockroom.