EZR Shelving Help Retailers Prepare For Christmas
3 December 2014 | Jon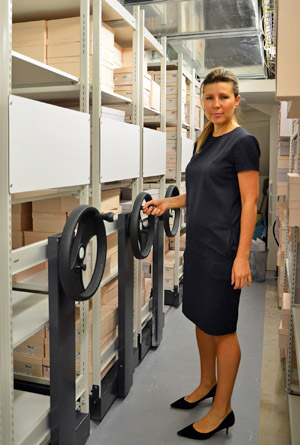 With the decorations up and numerous city centre Christmas lights being switched on up and down the country, retailers are gearing up for what is hoped to be a very lucrative shopping season.
Over the past few months the EZR Shelving team have been busy working with high street retailers and leading fashion brand outlets, ensuring they have enough storage space to cope with the increased stock demands that come at this time of year.
In particular their have been a number of mobile shelving solutions installed to provide the required increase in storage capacity. Converting existing shelving to mobile or installing new movable racks creates cost-effective, practical and efficient high density storage areas capable of holding large volumes of stock.
The EZR range of mobile racking units can be configured to suit rooms of any shape or size and for many retail shops, mobiles are the only logical way to increase overall capacity without using remote storage units or having to consider moving premises.
The photo here shows one of our most recent installations for a high profile shoe brand's retail outlet in London. Medium duty Trimline commercial shelving units are mounted to sturdy mobile bases that glide effortlessly along floor tracks via a rotating hand-wheel. These mobile racks are being used for storing boxed pairs of shoes and boots (always a popular Christmas gift). Due to the number of styles and variety of sizes that need to be offered, shoes demand a lot of storage space and it is one of the product ranges that benefits most from a mobile shelving solution.
No matter what type of products you need to store, the EZR Shelving team can find the perfect solution that is based around your exact requirements. To discuss how mobile stockroom shelving solutions can transform your storage area please call 01993 779494.