EZR Launch New Garment Hanging Rail System
14 May 2013 | Jon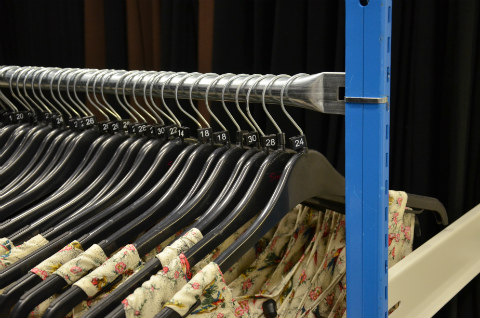 EZR announce the launch of a brand new garment hanging rail designed to satisfy the ever changing storage requirements of clothing retailers.
This new component provides a strong and practical solution for storing a wide variety of clothing items that need to be stored on hangers. The tubular beam can be easily inserted into Trimline shelving frames and retains the same 25mm height adjustment of the standard shelf beams. This style of rail is designed in a way that encourages clothing to easily slide left and right for quick stock retrieval - an important consideration in a busy stockroom.
Having a rail within fixed racking like the system shown here allows individual storage sections to be created for each product range or style of garment - Promoting a tidy and organized stockroom function where every product can have its own storage location.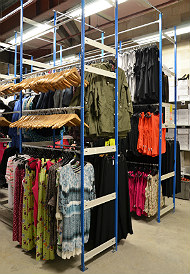 Using 3 tiers or more in high level racking is one of the most cost-effective ways to store hanging garments. The 'outboard' layout shown in the photograph opposite creates a two-sided rack that maximises storage space by using as much ceiling height as possible with easy access.
With an ever growing range of sizes and styles to promote, clothing retailers are looking to maximise every available inch of space within their retail stockrooms, EZR Shelving's range of stockroom racking is already one of the most efficient and cost-effective solutions for retail storage and this new hanging rail provides a new way to further improve clothing storage capacity.
Contact EZR Shelving today on 01993 779494 for further information or Email Us with your specific stockroom requirements.