EZR Shelving to provide over 1.5km of Stock Racking in Regent Street
28 October 2011 | Andrew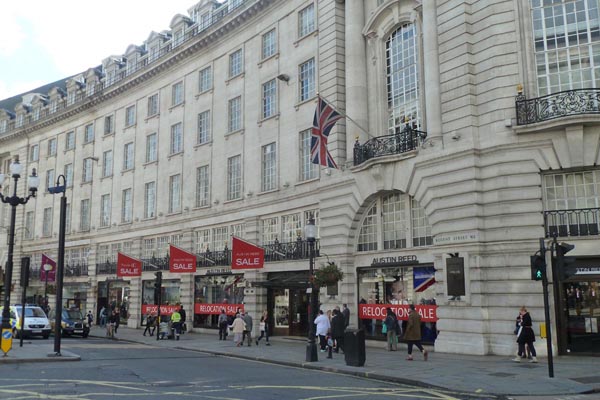 EZR Shelving is providing the storage solution of over 1.5km of stock racking in the basement stockroom of the old Austin Reed building in Regent Street.
Austin Reed closed its doors for the last time on Friday at its iconic 103 Regent Street store, ending an era spanning 85 years. This is not all bad news as Austin Reed will open it's new store soon just across the road, and 103 Regent Street will shortly be home to an exciting new fashion brand.
Refurbishment of this impressive Grade II listed building needs to be sympathetic in order to maintain the historic features; however the work needs to be complete for the grand opening on 12th December – less than 8 weeks!
This project is a logistical challenge for all concerned due to the short timescale and the central London location, made worse by this being one of the busiest times of year in Regent St with the Christmas shopping season quickly approaching.
EZR will rise to the challenge and we'll keep you updated over the coming weeks...
Update: 18th December 2011: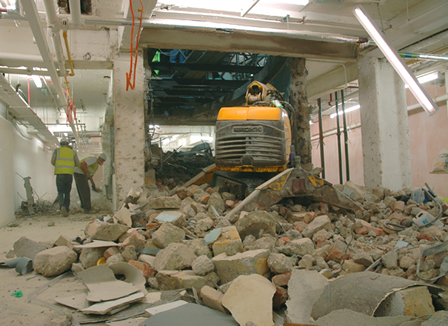 The photo opposite was taken at today's site meeting, and shows the lift pit being removed from the basement stockroom.
Over 80 tonnes of rubble is being shovelled into plastic buckets and winched up through the old lift shaft to street level.
EZR Shelving is fitting 172 bays of stockroom racking in this area, a week on Monday!!
UK may not be leaders in manufacturing, but we're world leaders in shopfitting and delivering fantastic new retail stores within very short timescales.
Update 1st December 2011: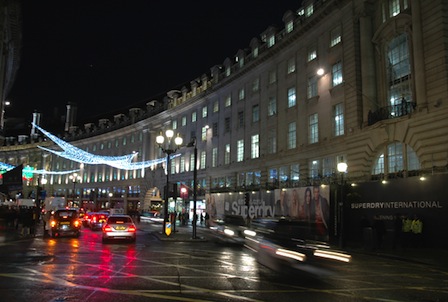 Installation of 172 bays of stockroom shelving will be finished today, providing 1.5km of storage capacity.
EZR Shelving has completed on time despite the difficult access, the lift not working and problems caused by public sector demonstrations in central London yesterday.
The stock arrives on Monday and the new store opens for business on 12th December.
The lights were pretty, but no time for Christmas shopping!!