EZR Shelving Wins 270 Store Roll Out
25 November 2008 | Andrew
EZR Shelving has been awarded a contract to manufacture stockroom shelving for a leading computer game retailer. The stockroom improvement project involves the installation of new stockroom shelving in 270 stores in just 18 days throughout the UK.
The requirement is for a special narrow stockroom racking system that will accommodate software based around the DVD box format, and a stockroom shelving system that will enable both software and hardware to be stored on the same racks.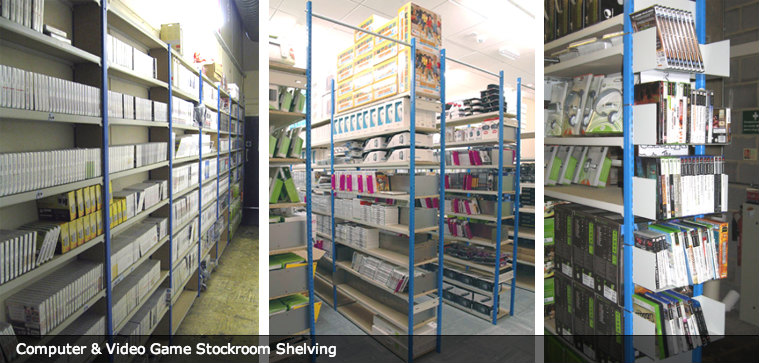 The objective of the project is to increase stock density by using a stockroom shelving system that is designed to suit the both software and hardware, and provides flexibility for the changing stock profile.
Stockroom efficiency will also be improved and the new racking design will allow stock to be replenished faster.
Extra narrow shelving units are designed to suit the DVD, Playstation and NDS software formats. EZR's 25mm shelf adjustment provides the flexibility to suit stock variances. This will make use of corridor space and will enable stock to be located closer to the sales area. Double depth shelving has a back stop, which allows software to be stored on both sides and can be removed to allow hardware to utilise the full shelf depth.
Units are top tied for stability using specially designed overhead aisle ties and this provides a very sturdy structure for the narrow depth shelving that would otherwise be unstable.
The racks ends have also been utilised with a special shelf that hooks in to provide additional stock capacity for stores that have limited stockroom space.
Call 01993 779494 to discuss your storage requirements with the EZR sales team today.