EZR To Supply Over 90 Lockers To Sackville School
18 July 2012 | Jon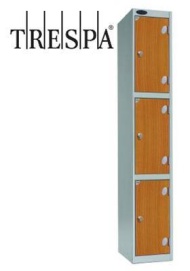 EZR Shelving are pleased to announce they will be supplying over 90 lockers to Sackville School.
Located in East Grinstead, Sackville School is not only one of the largest schools in the country but is also recognised as a specialist engineering School and leader in space education. Due to the schools large catchment area and popularity, the ever expanding roster of over 1600 pupils in attendance was causing some serious storage space issues that the school needed help with.
EZR were brought in to help increase storage capacity, after careful consideration a large quantity of Trespa Lockers were selected as the most cost-effective way to provide extra storage space for the student's books, clothing and personal belongings.
The choice of Trespa lockers is a popular one for schools, Trespa doors are made from hard wearing laminate material, designed to last for many years and easily able to cope with the everyday knocks and bangs associated with school life.
Trespa doors provide an excellent alternative to standard steel locker doors, although slightly more expensive than steel they have the added benefits of being virtually impossible to damage. These tough doors are impact, scratch, moisture and even heat resistant which reduces the need for possible replacement doors in the future.
EZR are proud to be working with Sackville School and many other colleges and universities across the UK, EZR's extensive range of locker solutions give educational establishments everything they require to extend or upgrade existing storage facilities.
Contact EZR Shelving today on 01993 779494 for more information on bespoke School locker solutions