Workbench Storage Solution from EZR
14 September 2010 | Andrew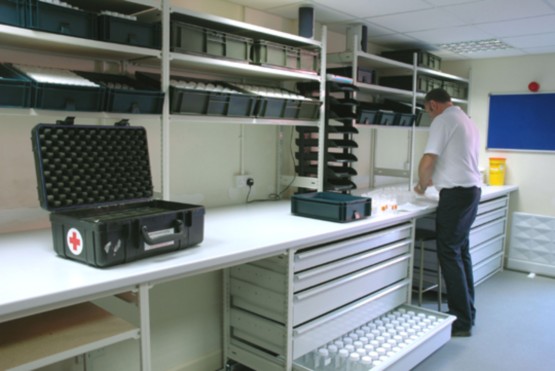 A workbench storage solution was developed by EZR Shelving for a Government water testing laboratory.
Water sampling kits are prepared and easy access to each component is essential for an efficient operation.
Steel workbench drawers provide storage beneath the work bench adjacent to each workstation for operatives to sit or stand whilst preparing kits.
The deep workbench provides sufficient depth for storage shelving at the back and work space at the front providing a comfortable and efficient working environment.
Steel storage drawers are 1200mm wide and supplied in two heights to suit the items being stored with a workbench storage drawer for each bottle size.
Plastic picking bins provide shelf picking above the workbench ensuring that all kit components are stored within easy reach.
Sloping storage shelves are designed to store plastic boxes in standard euro container sizes.
High level storage shelves provide space for additional euro plastic containers so that empty boxes can be replenished.
"EZR Shelving's workbench storage idea has transformed the efficiency of the facility and everything is now within easy reach where you naturally want it to be, with more storage and work space".
Contact us to discuss how we can increase your storage capacity: Call 01993 779 494 or email mail@ezrshelving.com.