Garment Racking Solution For Fashion Retailers
20 April 2012 | Jon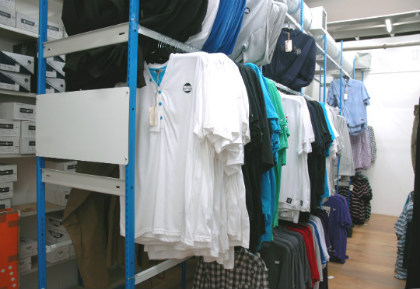 The Metro Centre in Gateshead has just celebrated its 25th birthday, with over 300 retailers on site and receiving
23 million visitors per year, it continues to be one of the UK's greatest shopping destinations.
Our most recent installation required us to make the long trip up to Gateshead to build a complete stockroom solution for a big brand fashion retailer, the system shown here is a perfect example of how our modular shelving and racking can be used to create a stockroom that features both garment hanging rails and shelving.
The photo below shows two runs of racking, one storing boxed goods on standard stockroom shelving and the other using our unique hanging rail system with enough room left between them to allow convenient and safe access. Wipe boards were supplied and fixed to the end of each run of racking for a simple yet effective labelling solution for easy stock identification.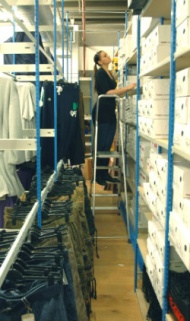 Double sided garment racking provides a cost effective alternative to conventional monkey bars with fully adjustable hanging rails.
This style of garment racking is perfect for high density clothing storage and is quickly becoming a popular choice for retailers who need an easily accessible and flexible storage system suitable for seasonal stock changes.
Every stockroom installation comes with a different challenge, this example required us to work around a particularly large heating/ventilation duct. This is not the easiest of obstacles to accommodate but our narrow profile Trimline shelving combined with an accurate survey ensured that the system fitted without a problem.
Our specialist team supply and install high quality stockroom racking solutions to many of the big brand retailers throughout the UK in both high street stores and retail outlet centres.