A Guide To Archive Box Storage
18 August 2017 | Jon
Since its introduction in 1975 the A4 paper size has become the standard for businesses and home users the world over. Everything from bills and invoices to faxes and letters are printed on this most versatile of paper sizes. Amazingly not even the widespread adoption of electronic mail has made a significant dent in the amount of paper used in businesses.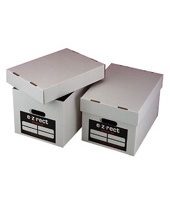 So what do you do with all these paper documents? Obviously anything that can be disposed of should be done so with considerations for sensitive information and recycling in mind, however record keeping laws and regulations dictate that much of the everyday paperwork used in a business or organisation must be kept for at least 5 years.
Archive boxes (also known as file boxes, document boxes, office box files or banker's box) provide the perfect solution for archiving documents, the low purchase price of cardboard archive boxes mean this type of storage solution is suitable for all businesses no matter what the size.
What Size Archive Box Do You need?
As far as size goes, a box of at least H250 x W250 x D370mm is required to ensure A4 paperwork can be stored easily either on its own or stored within standard document folders. There are a whole host of different sizes available but it is important to know what you will be storing in each box and how the boxes will be stored once full.
Our own archive document box is designed specifically to allow a variety of A4 papers and Foolscap sized folders to fit easily within the box and to also fit within our standard sized shelving for maximum storage capacity.
What is Foolscap?
The foolscap paper size is now generally only used for outer folders for A4 paperwork, the foolscap size of 216 x 343mm allows A4 documents sized 210 x 297mm to fit easily, with enough space around the edges to offer protection to the documents.
Archive Racking Solutions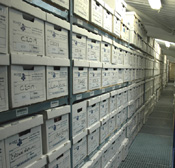 Archive boxes when used in small offices are often stacked one on top of the other in an unused corner but using them in this way can lead to the boxes becoming damaged and difficult to use. We recommend the use of dedicated archive box shelving and racking to prevent damage to the cardboard and to make document retrieval much easier.
Single or double depth shelves are available in a wide range of depths to accept as many boxes as possible, a selection of bay heights give storage options to customers who want access with or without step ladders.
We offer archive boxes together with a wide range of standard archive shelving units to buy online, if you have a large or specific requirement for archive storage or if you would like more information please call us on 01993 779494 or email: sales@ezrshelving.com