Complete Stockroom Solution For Hawkinsport
31 July 2014 | Jon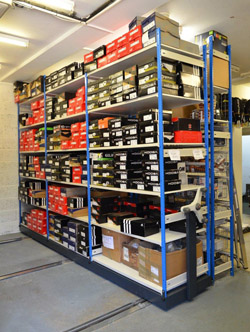 EZR Shelving has recently completed a full stockroom solution for sportswear retailer Hawkinsport that included both static and mobile shelving solutions.
Hawkinsport supply a wide range of high quality sports clothing and apparel to sports clubs and schools, their continued success in this market required them to look at ways to improve capacity and stock handling in the main stockroom.
After EZR conducted site visits and consultations it was clear that a full stockroom overhaul was needed to maximise the available space. A combination of mobile and static shelving units configured precisely for different product types proved to be the most efficient storage layout for this project.
The two product types that required the most attention (and space) were shoes and polo shirts. Storing large volumes of shoes in a way that allows quick retrieval can be difficult when space is restricted. Without a high ceiling to work with, mobile shelving units were chosen as the perfect way to store boxed shoes whilst maintaining easy access. Industrial strength Trimline shelving bays were bolted to EZR's mobile chassis base. This allied with a rotating handwheel and floor-fixed running tracks provides effortless movement of a fully stocked racking system.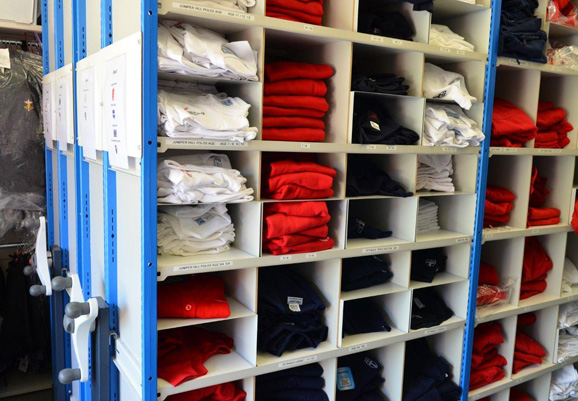 The most practical way to store large volumes of folded garments in a stockroom is to use pigeon hole units, with this project having so many different sizes and designs of polo shirts to be stored a mobile pigeon hole solution was the only way to go.
The photo here shows how the pigeon hole units are constructed from standard Trimline components with full length dividers, each column generally stores one product type whilst each pigeon hole contains a different size.
To add even more cubby holes EZR's new pigeon hole divider was used to split sections in half. Using the divider is more cost-effective than adding extra shelf levels and as they are not fixed in place, each one can be moved to a new picking location as and when required.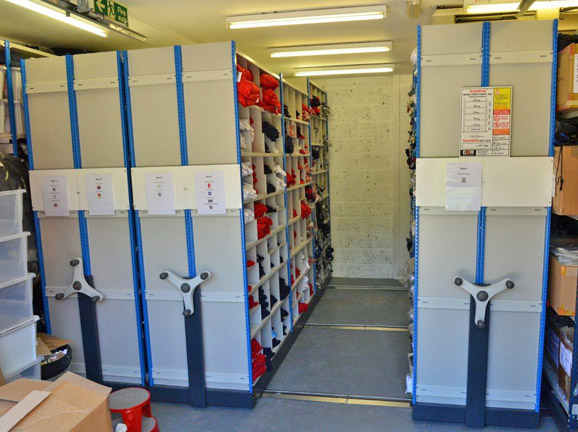 The mobile bases are fitted with 2 x back-to-back pigeon hole units that creates a picking face on either side, access to any section is just the turn of a handle away.
Different rack heights were utilised ( as can be seen from the photograph above) to use as much of the available headroom as possible, the front section of the mobile shelving was designed to be 6 inches lower than the rest, providing clearance for the roller shutter door runners and air conditioning unit.
Pigeon hole storage is becoming increasingly popular in UK retail storage areas, as EZR's solution is based upon standard Trimline shelving components there are a multitude of configurations available to suit any product type.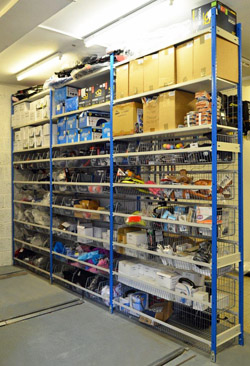 Despite several new mobile racking units being installed, there were a number of existing storage racks that were suitable for mounting on to the EZR mobile chassis base. Where possible, re-using old components is a great way to reduce the overall cost of a project. Static shelves and hanging garment rails also play an important role in the overall solution.
In particular the 9ft high combination shelving units (shown left) are a great example of how mixing different shelf styles creates efficient and practical storage. High level shelves store less frequently used boxed goods whilst lower levels use wire baskets with dividers to provide a quick and easy way to pick small accessories and equipment.
EZR provided a full design and build solution, capacity has been improved and the stockroom is now able to cope with the future demands of a growing business.
Installation work was completed over a client specified time during a bank holiday weekend to minimise disruption to the business.
EZR continue to supply high quality stockroom solutions to retailers all over the UK and Europe, to find out more about the storage systems shown here or to discuss your own stockroom requirements please call 01993 779494.