High Density Shoe Racking For London Department Store
8 July 2020 | Andrew
EZR Shelving was tasked with providing storage capacity for 30,000 shoe boxes in 7 stockrooms for a leading department store as part of the refurbishment of their Men's shoe department.
Achieving the shoe box capacity was critical, whilst at the same time providing access for multiple staff members; fast access to stock is essential to provide the high level of customer service that customers expect.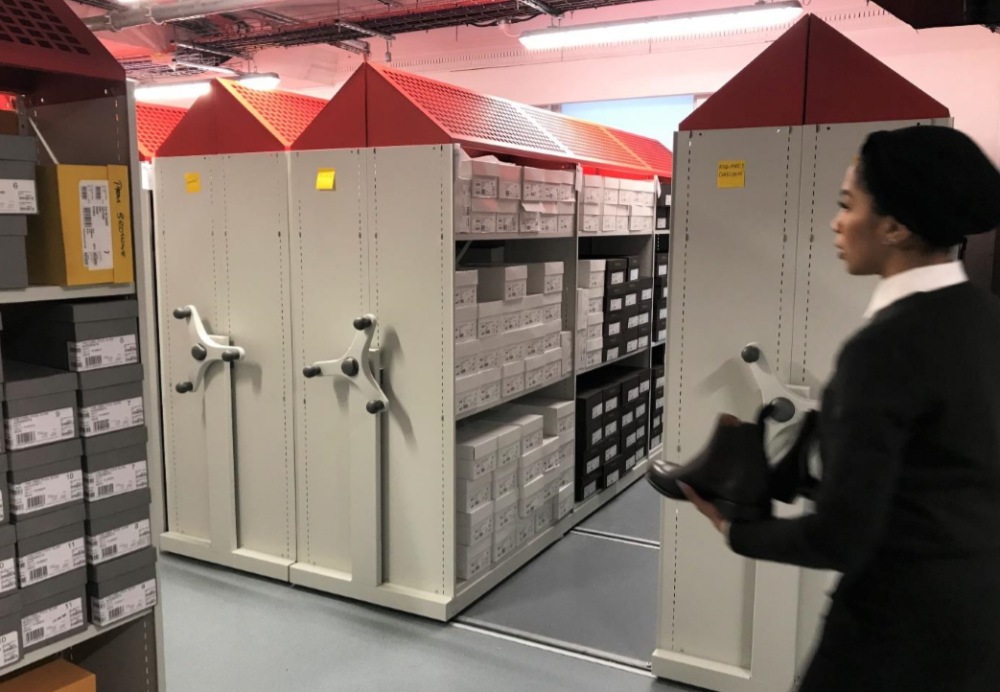 Sprinkler clearance of 500mm was required, plus a 300mm sloping top shelf to prevent stock from being stored on top of the racks.
Mobile shelving/Roller racking was the obvious choice, and layout design was critical as just providing the target box capacity was not enough; the target capacity needed to be achieved whilst ensuring fast access.
EZR set a time limit of two minutes to walk from the sales floor, into the stockroom to access the shoe box required in the correct size, and return to the customer. Blocks of mobile racking were designed with multiple aisles so that two or three staff members could access the system simultaneously.
Increasing the number of aisles reduces the stock capacity, so this was a compromise and innovative design solutions were required make best use of the stockrooms, which were all different shapes and sizes and some even had sloping floors.
EZR is able to manufacture mobile shelving to any size, so racks were designed to fit into alcoves, on plinths and under ducting with only millimetres of clearance. The ceiling heights varied in each stockroom and overhead services needed to be routed through the stockrooms, so EZR worked closely with M&E contractors to ensure that racking layout designs could accommodate the necessary AC ducting, cable trays and sprinkler systems.
Ducting was routed above the aisles between the mobile racking blocks and some ducts were 800mm wide above 1000mm wide aisles, so the accuracy of layout designs and setting out was crucial from M&E trades and EZR's project team.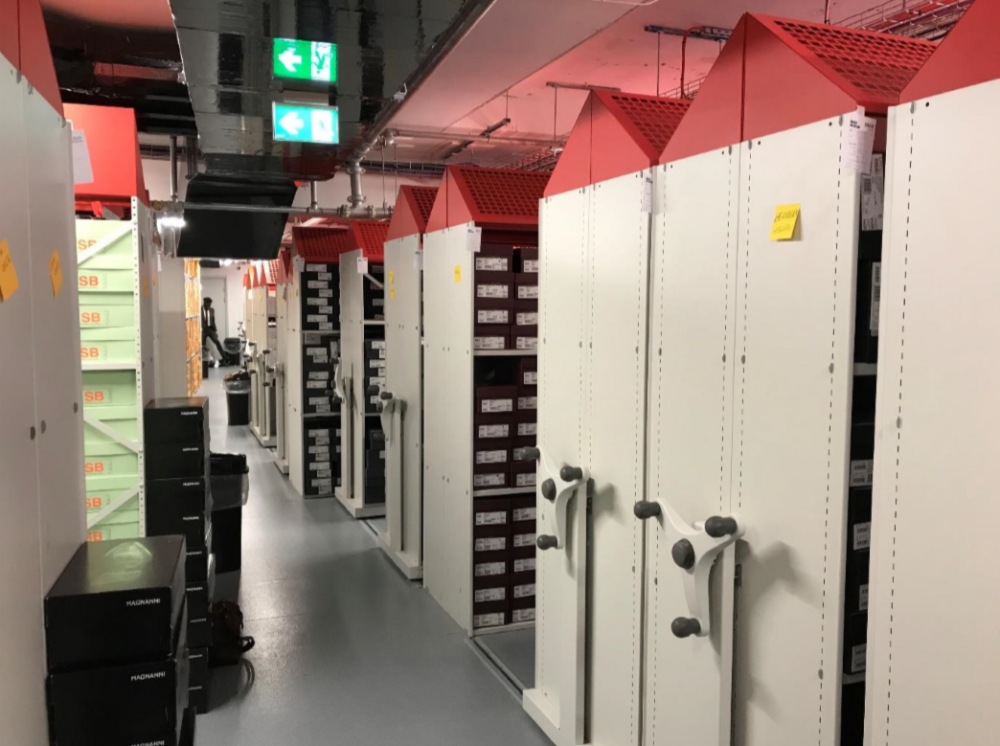 R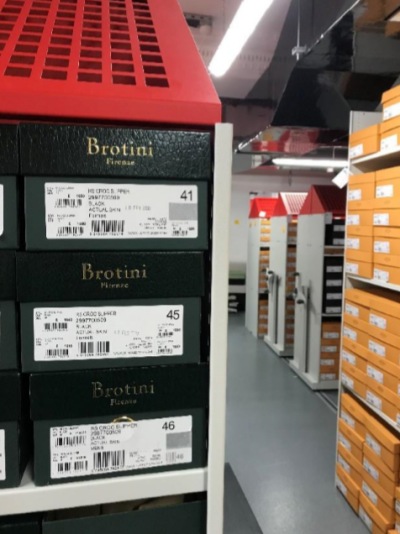 egular survey visits were made as the stockrooms were being formed as it was inevitable that last minute adjustments would be required, so final checks were made immediately prior to manufacture.
The final design had 17 different rack height profiles across the 7 stockrooms to ensure that all of the available head room was used, during one survey visit prior to installation there was a 14mm conflict with cable tray hangers due to the latex and flooring that had been laid, such was the tolerance that we were working to; this was easily resolved by raised the cable tray slightly.
Sloping shelves were a specific requirement to prevent boxes from being stacked on top of the racking and were painted red with 50% perforations to allow water to penetrate in the event that the sprinklers were activated.
Roller racking was designed with low profile track to eliminate possible trip hazards associated with raised floors; low profile track also reduced installation time.
Installation was carried out in phases during the last two weeks programme, and assembly of 458 bays of mobile shelving was programmed to follow the flooring contractors and decorators; deliveries were made out of hours and materials carted to each stockroom overnight whilst the store was closed as access was across the sales floor.
EZR mobile shelving has locking handwheels as standard with push button knobs so that users can lock the aisle in the open position when they're accessing stock, to prevent the adjacent rack from being moved.
The completed system works well and has significantly improved stock capacity meaning that a wider range of shoe styles and sizes can be held in stock. Shop staff commented on the improved access to shoe boxes and they no longer needed to apologise to customers for keeping them waiting to try a pair of size nines!
Give us a call if you'd like to discuss how you can increase capacity in your stockrooms, we'd be pleased to help – 01993 779494