High Density Storage Solution
8 April 2010 | Andrew
EZR Shelving was asked to design a high density storage shelving system in a triangular stockroom at the Bull Ring.
The solution was a high density mobile shelving system with staggered shelving lengths to use all of the space available.
The mobile shelving system consisted of 5 mobile units with back to back runs of shelving on each unit, providing a capacity of over 300 linear metres.
Each of the 10 mobile shelving runs are a different length creating a 'saw tooth' effect at the back of the mobile shelving, allowing the stock racking to fill the unusual shaped stockroom.
The shelving is 3m high and accommodates 5500 shoe boxes. The aisles are accessed by turning the hand-wheel to move the mobile shelving units and each unit is lockable for safety.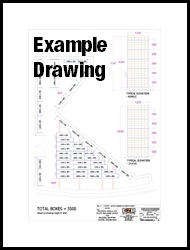 Back to back shelving runs are divided by mesh panels to prevent stock movement whilst allowing good visibility of stock locations.
The track system consists of a low profile running track with ramps to either side to reduce potential trip hazards.
Click on the drawing thumbnail to download a PDF copy of the layout drawing showing how the mobile storage system fits within the triangular stockroom.
Contact us to discuss how we can increase your storage capacity: Call 01993 779 494 or email sales@ezrshelving.com
We offer a free design service and we would be pleased to arrange a site visit to discuss your requirements.