Increased Demand For Tablet Storage Devices
26 June 2014 | Jon
With tablet computers taking over as the preferred digital device used in our schools, there is increasing demand for storage products that can both store and charge these ultra portable computers.
Our range of laptop charging trolleys have been available for a number of years now and we have evolved our range to cope with the the transition from large laptops to smaller netbooks and now to tablets such as the industry-leading Apple iPad.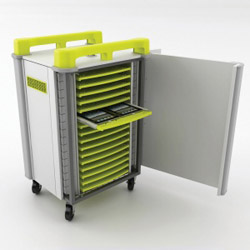 We now have 2 new products that that have been specifically designed to meet the needs of a modern school looking to use the latest technology to aid learning and development.
The first is the Tabcabby - a high quality charging trolley from the makers of the LapCabby. This unit can be easily moved between classrooms thanks to strong castor wheels and is able to charge up to 32 tablet computers*.
With a top mounted key lock, rubber corner bumpers and advanced power management module this trolley is tailor-made for learning environments, providing a durable and cost-effective way to store and protect tablet computers.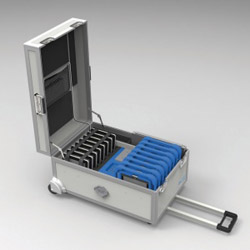 The second product is the amazingly compact GoCabby, essentially the size of a small wheeled suitcase - it has the ability to store and charge up to 16 media tablets* (from any manufacturer) in a very portable design. There is also space for a 'master laptop' and an automated sync option for those using Apple iPads.
The GoCabby's ultra portable design means that these mobile devices can be taken on field trips and school excursions. The small form factor also aids security as the unit can be tucked away under desks or in small cupboards when not in use or even taken off-site if required.
There is currently high demand for this product and we recommend that you place orders 2 weeks in advance of when you need one.
Take a look at our full range of charging trolleys, each one is available to buy online but if you need any further information please don't hesitate to contact us.
*The capacity of these units is dependant upon the size of each tablet, please check the product detail pages for specific information about sizes.
Note: Apple & iPad are registered trademarks of Apple Inc, registered in the U.S. and other countries.