John Hampden Grammar School Phase 3: Canopy Lockers
16 September 2014 | Jon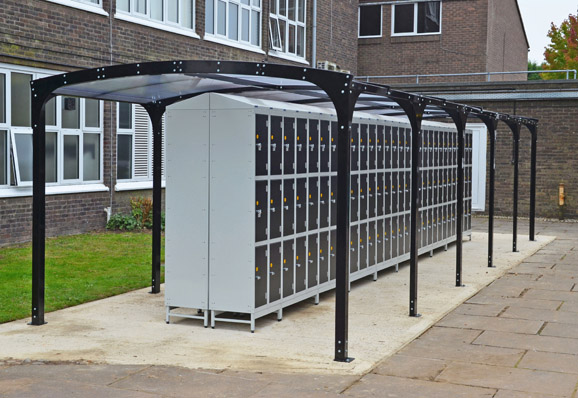 This is phase 3 of an extensive outdoor locker project that has been taking place over the past 18 months for the John Hampden Grammar School. Previous installations have utilised existing covered areas and walkways to create room for several hundred lockers but this stage required a different approach...
A clear area was identified as suitable for the next stage of expansion but the exposed ground offered no protection for the lockers or pupils. EZR found the perfect solution by way of a free-standing canopy that provides over-hanging shelter for all of the 174 lockers.
12 steel support legs are bolted to the ground for security whilst an opaque roof protects students from adverse weather conditions, the roof also allows enough natural light to pass through to aid visibility whilst giving protection from direct sunlight.
The John Hampden Grammar School have taken the concept of outside storage and used it to dramatically increase their total capacity to nearly 1000 lockers. Other schools, colleges and universities can easily benefit from similar solutions.
Call EZR Shelving on 01993 779494 for further information.